The A4 is a smashing allrounder. It gives you enough of everything and then some while looking and feeling much richer than the Superb, comfier than the 3 series and sprightly compared to the C class.
BHPian sauravpat recently shared this with other enthusiasts.
Our family recently completed a big overhaul in our garage wherein we bought 2 new cars. I will be compiling my views about both of the cars in different threads with a common background and car selection story since both of them were selected hand-in-hand.
I will attempt to make a case for the lowest variant of two cars in completely different segments and price points and discuss whether it is worth going for the top end variant every time if the budget permits.
Introduction: The Garage Overhaul
When the time came for us to do a major garage overhaul, the task of selling, buying, and completing the associated formalities was entrusted to me by my family owing to my interest and extensive reading of TBHP. In the course of the last 2 months, I sold our old Nissan Micra to a big organized player i.e. OLXAutos; bought a used Honda Jazz from an individual, and sold our beloved VW Jetta to an independent garage that deals with high-end VAG cars.
And of course, we got home a spanking new Audi A4 on my birthday!
Our old trio: VW Jetta 2015, VW Vento 2018 and Nissan Micra 2014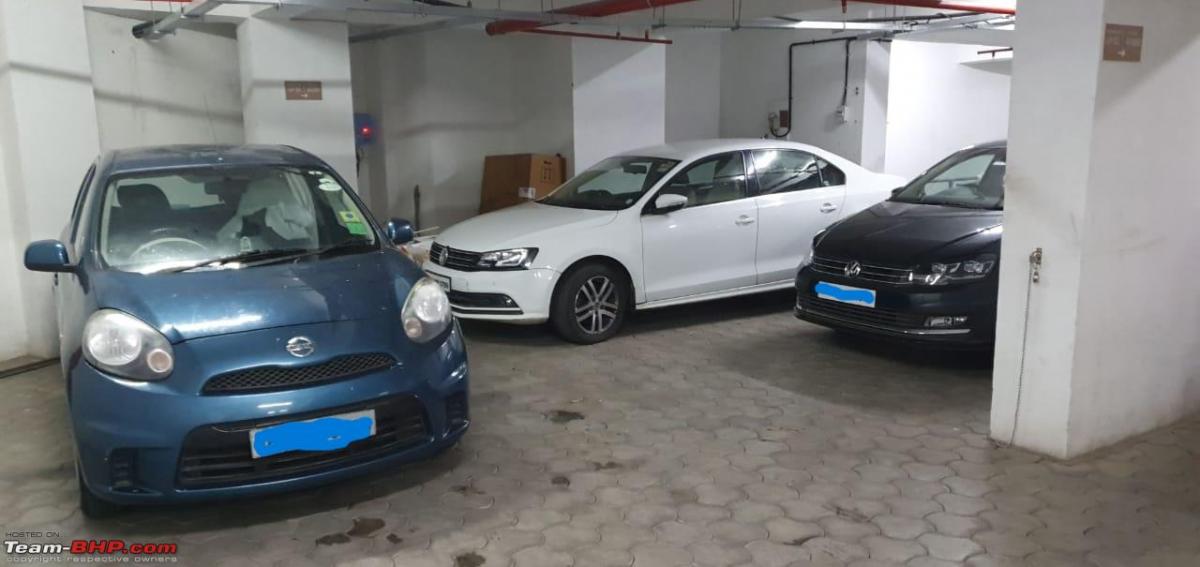 Our new trio: Audi A4 2022, VW Vento 2018, Honda Jazz 2019
My parents are both not too tech savvy so it was me and my elder brother doing test drives, researching costs, and closing the deals.
The time to sell our 7.5-year-old 50k km run Micra Active Safety Pack had come. Bought when my elder brother first turned 18 for 5.8 lacs, it was the car both of us learned to drive on. It was our beater car and post the first four years of ownership (since 2018), we had used it liberally.
Taking the dog for trips to muddy hills and getting him back, going to intercollegiate football matches with 6-7 team members and our mud filled kits, parking it in the open in the college parking, and generally having fun with it. The Micra did it all.
The last couple of years we had serviced it at local FNGs and it was still working well. The tires were completely bald, it required a couple of major part replacements and the bodywork was in a sorry state with multiple scratches and dents over these 7 years including on the roof. We had never bothered repairing any since it was never used by our parents and we all agreed that we should use it as is.
But then, my brother started traveling outside Pune a bit more and the Micra was not highway worthy in the eyes of my parents. So, we decided that we should replace it with another hatchback.
Since we were changing cars, we casually came to the topic of also changing the Jetta. The Jetta was the most solid car we had ever owned and was extremely comfortable. Apart from a bit of diesel clatter, we loved the car and it spoilt us to the extent that we did not consider non European brands when it was time to upgrade. The decision to buy the Vento was also founded by our excellent experience with the Jetta.
Hence, me and my brother tried to convince our parents to keep our 6.5 year old Jetta with 1.25 lakh kms on the ODO as the new beater car for us. We were met with a strict NO which refused to budge despite several attempts from our side. 3 big cars in the crowded city of Pune was seen as a sin by my father.
Our hope was to keep the Jetta for us in place of the Micra and get a new car for my father. But that was quickly put to bed.
Replacing the Jetta is a monumental task for what it offers. It is the most reliable, sturdy, well built, economical and powerful car we had ever owned. My father had a couple of highway incidents over the 1.25 lakh km it was with us but he couldn't even feel it inside the cabin. Truly one of the best cars to ever grace the Indian Car market.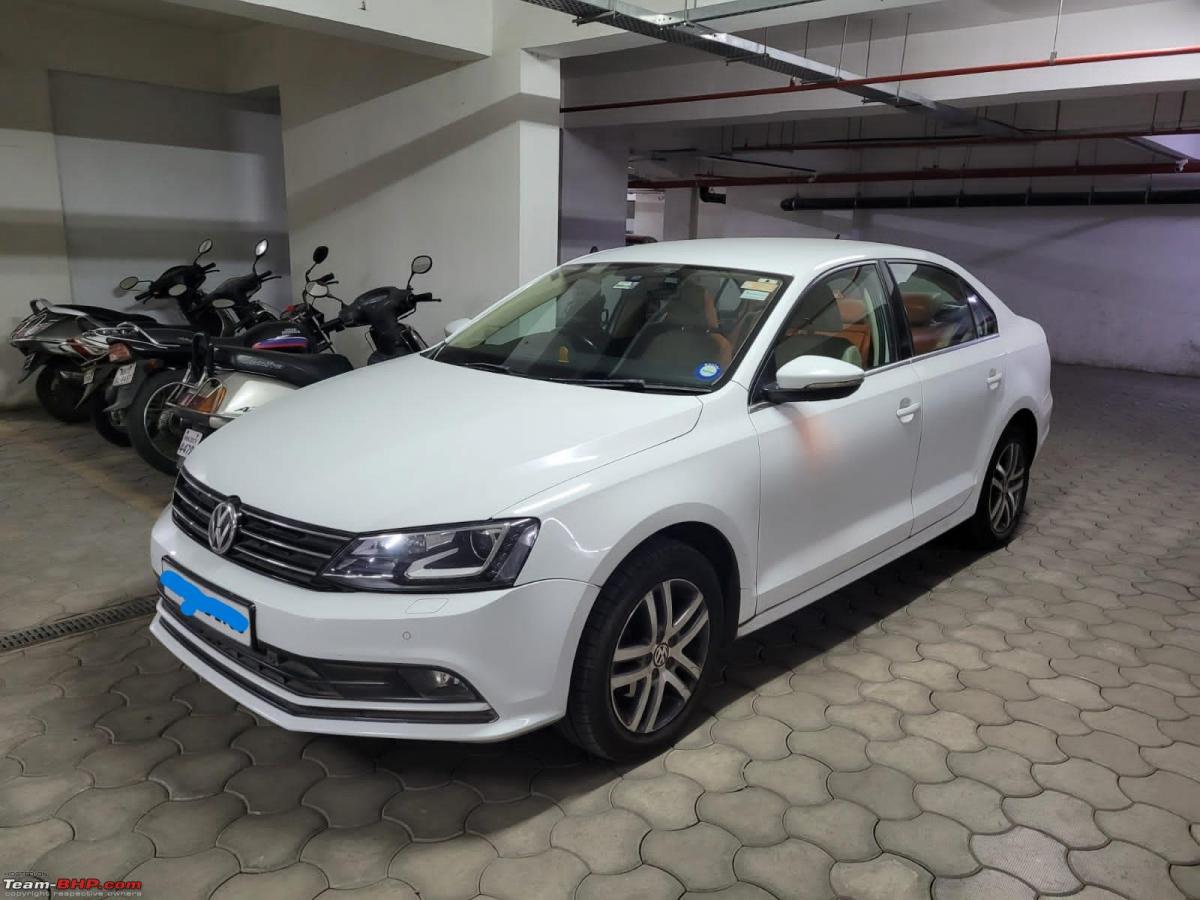 Deciding the Budget
Our parents set us a budget of 45L for both the cars assuming we would get 10 lakhs for the Jetta and Micra (combined age of 13 years and 1.8 lakh kilometres) and we would spend 35 big ones additionally.
This budget was decided after we saw that a new age Jetta i.e. the newly launched Octavia was retailing at around 34 L for the top end variant. So moving up a segment would mean spending a bit more than that.
The initial plan was to use 40L for the big car for my father and 5L for the smaller car.
We started searching for options for both the cars. It quickly became obvious that we need to go the pre-owned route to get a good hatchback as an upgrade to the Micra which is a full sized hatchback….
As you will have read or might read in the other thread, we were lucky enough to find a 2019 Jazz in absolutely amazing condition for which we ended up paying 6.5 L. It was a small premium according to me but well worth it for the peace of mind we got in exchange.
The purchase of the Jazz meant that our budget had been slashed to 38.5 lakhs from the earlier 40 lakhs for the big car.
Selecting a car around 40 Lakhs
1. VW Tiguan: The car we were sure we would buy till the pricing and feature list was announced. Disappointing was an understatement. Another huge blow for it was the fuel economy. The new car was sure to cross 1 Lakh km in the coming 5-6 years and we could not look past the 7-8 kpl economy in the city and 10-11 kpl on the highways. That was simply too low for us. ARAI claimed mileage of 12.8 or so meant real world averages of under 10 kmpl.
Add to that my parents both prefer sedans over SUVs.
Nevertheless, we booked an appointment for a test drive at VW BU Bhandari Pashan 3 days away from the day of booking the appointment. The morning of the appointment, we confirmed our appointment and then at 5pm went to VW BU Bhandari as decided. We were expecting to get good treatment being owners of two big VW cars, the Jetta and the Vento. To say it was underwhelming would be putting it lightly. We went in and mentioned that we were here for the Tiguan TD. The receptionist who was clueless ran to the manager to ask him about it. He himself was clueless. The 3 dealerships in Pune were sharing 1 car amongst them. He called up the guy who said he would need an hour and a half to reach there. We said we won't be waiting. The manager apologised and said he would get the car to our house at our convenience and would call to follow up.
That is the last we heard from them. No follow up for the car. They are not interested in selling anything but the Taigun and we left with a bitter taste in our mouth
Very poor dealership experience. Rejected
2. Skoda Superb: Given our European car preference and my parents both preferring sedans, the Superb was the natural choice. Bigger, better and more luxurious than the Jetta. Well, in our case bigger wasn't exactly better. Our car parking is at the dead end of a basement parking which means we need to reverse the car a good 80-100 metres and then park it beside a wall. Our other car is parked right next to that. So if one of our other cars is already parked there, the Jetta required 2-3 forward- reverse adjustments to get it into the parking.
And my father is self driven 5 out of 6 days in the week. On the weekends he travels to other cities with our driver where he drives if he feels like it. In the city he drives himself. Hence, he himself said that I do not want the Superb or Camry in any case. It was far too long for our parking and for someone who is self driven. But I knew the Superb delivers the most value for the money.
My dad was neutral, mom thought that 40+ lakhs on one car needs to go to a premium brand and I was completely for the Skoda Superb, since we know that nothing beats
the Skoda Superb in the VFM quotient. The space to cost, features to cost ratio for the Superb is higher than everything else. And since we were in December, I was hoping to get the Superb for 40-42 Lakhs OTR Pune for the L and K which meant a couple of lakhs discount which was quite achievable.
I called up all 4 dealerships in Pune, 2 owners with 2 dealerships each, and asked for a test drive 3 times each. They said no car available, no TD available and that cars will directly be available for TD post February with a price hike and some added features. Not one of them tried to take my number or name for a follow up when they do get the car. Pathetic experience again. There will be no discounts immediately when it is launched in March obviously.
I was still convinced that we should wait 8-10 months and get the Superb, but after couple of trips in an acquaintances' Superb (2019 L and K), they said that it was very nice but nothing too great over the Jetta. Rejected
3. Toyota Camry: Priced out of our budget and too long for my father's liking as well. Rejected
4. BMW X1/ Volvo XC40: We brothers were adamant that without four wheel drive, there is no point in buying an SUV and compromising handling for some ground clearance. If it was an SUV, the least it could have was some proper offroading capability. Also closer to 50 L OTR Rejected
5. A Class Limo/2 Series Gran Coupe: Maybe if my dad was 20 years younger and had this money at that age!! But definitely not for a family of 4 adults with 3 of them taller than 5'10. Classy and elegant >> flashy for us. Also closer to 50 L OTR Rejected
6. 3 Series/ C Class: Better specced for sure and better to drive (3 series) and better presence and luxury feel(C class). No doubt about that. But the base variants for both are more than 52L OTR which was simply not what we wanted to spend. So no point in going for that.
7. Pre Owned Low Run C-Class/3 Series: Since my father is not a huge automobile enthusiast, he wouldn't mind a base diesel engine since it would be better for the fuel efficiency as well considering our running. However, paying around 35-38L for 30-40k run 2 or 3 year old cars was not making sense to me. With my father's running, the maintenance costs would shoot through the roof after the car completed 5 years of ownership by which time it would already be 100,000 km old despite having been with us for only 3-4 years. Did not look at 5 Series/ E class/ A6 since they are a size too large Rejected
8. Audi Q2: When my brother first called up Audi Pune, they tried their best to unload a Q2 on us. There were unbelievable discounts.. easily upwards of 10 lakhs and the OTR was below 40 lakhs as well. But the car was simply too barren and again, rear seat comfort was nowhere in the picture. Rejected.
My parents have 2-3 different friends who have had Audis and one with a B9 A4 as well. All of them had only positive things to say. No one had suffered a large failure or unexpected cost in a combined ownership of 10+ years. We also have not had any issues in both of our Volkswagens touchwood (no ABS sensor issues, DSG problems). Hence, my father actually liked that Audi is the Luxury brand of the VW-Skoda group where some might think that similarities with lower priced cars are a bad thing.
Having seen the pricing for the new A4 to be 48/51/54 L OTR for the Premium/Premium Plus/ Technology at the beginning of Dec 21, my brother went to the showroom to check it out. My first question, is it really different from the Superb? And he responded with a resounding 'YES'!
9. Audi A4:
Is it smaller and less VFM than the Superb? Yes
Is it as good as the BMW 3 series to drive? No
Does it have the presence of a C Class? No
So what is it? It is a smashing all rounder is what it is. It gives you enough of everything and then some while looking and feeling much richer than the Superb, comfier than the 3 series and sprightly compared to the C class.
I had a hard time removing the constant comparisons with the other cars from my mind and seeing the merits of the car itself. But boy does it look good. Lights are absolutely stunning, central console is designed well and the overall fit and finish is extremely impressive.
I watch Carwow, a channel on Youtube in which the reviewer Mat Watson does a few very nice tests.
The first one and my favourite is the center console test in which you basically grab the center console and try to move it side to side. The whole centre console in the A4 is so sturdy that it did not flex or creak one bit. In comparison, the C class centre console does creak a bit under duress.
The second test is scratching the plastics in the interior and listening to the sound. Hard plastics make a large scratchy sound. For reference, our VW Jetta had soft touch plastic only on top of the dash and everything else, all the door pads, everything was hard. In the A4, all 4 doors soft and squidgy, leather for the armrests, soft material everywhere in the cockpit. Absolutely wonderful.
And the third one is the stick of truth which Mat pokes into the exhausts on cars to see if they are real. Glad to say the A4 passes this test as well. It just has some exaggerated surrounds but very real exhausts inside…one of the few Audi cars remaining that has them.
The dealership experience was really good. The SA was extremely accommodating, brought the car home twice when asked to, did not shove features down our throat at every opportunity and was interested in what we had to say. I was very impressed with him. He was polite and happy to answer all our queries not only before delivery but afterward as well. Coming from the Skoda and VW experience, this was miles ahead.
Me, my brother and my father all had separate test drives where we drove over bad roads and tried parking etc. We were extremely satisfied. And coming from the 6 Speed Jetta DSG and diesel engine, the NVH was on another level. Features like the Electronic Parking brake, Auto Hold, Auto Start-Stop were all completely new for my father and he was thoroughly impressed. My brother and mother were completely sold on the looks and the premium brand bug had bitten my mom who was convinced that this is the car we need to buy since she always dreamt of it ever since Ravi Shastri was gifted one in the 80s. Has to be one of the most brilliant marketing moves as it is still influencing decisions 30 years later. But my father was still reluctant to stretch our budget from 38.5 lakhs to 45L plus. That was quite a stretch. However since our old Jetta did not even have a reversing camera or Android Auto, my father was really pleased to see these features and agreed to buy the car at a good price.
Variant Selection, Negotiation, Booking
Armed with the fact that we could not go above 45L, we started to negotiate. Since the Technology Variant was 54 on the price list, it was clear that no amount of negotiation was going to get it below 47 lakhs OTR and hence we did not pursue that.
We were in the last 15 days of 2021 and told them to check for any MY21 cars available at a discount as well. I spoke at length with the SA about the discounts on the A4 in September and October and referenced the many BHPians who managed to get the A4 under 42L for the Premium Plus.
He openly admitted that Audi India was giving dealers support to push the A4 at that time and that the same was going on now with the Q2 hence the insane discounts. I also called Audi Mumbai South and West for prices.
Since we did not need any loan, we were curt and told them that if we got the Premium Plus for 45L we would seal the deal and pay the entire amount within 2 days. Sadly, none of them agreed and the best we got for the PP was 46.8.
We took a couple of days to evaluate the differences between the Premium and the Premium Plus. There are 3 differences –
1. 6 airbags vs 8 airbags: For a GNCA
P and EuroNCAP 5-star rated CKD car from Germany, we were satisfied with the 6 airbags present.
2. Single Colour vs Multi Colour Ambient Lighting: Cool to have party trick but nothing more. It is a good to have but definitely not a deal breaker since the Premium does have nice white ambient lighting
3. Single Zone Climate Control and No Rear AC Vents vs 3 Zone climate control with Rear AC vents: This one was hard to take. No rear ac vents? The Jetta had them, the Vento had them. How could the A4 not have rear AC vents? This is the one thing that will always irk me and my brother and was almost a dealbreaker for us. We told our parents that this is the only thing we have a problem with.
The price difference between the Premium and Premium Plus is 5.5 lakhs for MY2022. So it was really stinging us. As I complete my Bachelor's and my brother his Master's, we knew that we will be going out of Pune for further studies in 2023-2024. My dad is self driven 85-90% of the time he spends in the car. Whenever my parents go out, both of them sit in the front. Considering this, we concluded collectively that we can live with 3-4 mins of discomfort on hot days if there are 4 people in the car (something that happens around 10 times a year in our family considering we have 3 cars and 2 scooters) in exchange for 5.5 Lakh rupees.
In my opinion, they could have removed the 3 Zone Climate control for a Single Zone one. That is not at all a problem. But not having rear ac vents in a car costing 45 Lakhs is blasphemy. They have given some ventilation ducts under the seats which help in air circulation but that is a negligible offering. But well, it is what it is.
The MY2022 car has the Audi Phonebox and wireless charger as standard for all the variants. This was only available in the Technology trim in 2021.
I told my brother that we will buy the A4 Premium only if we get it at a price lesser than that of the Superb. Otherwise, I won't be able to justify it to myself. At that time, the Superb L and K was priced at 44.2 Lakhs while the A4 Premium was a cool 47.8 Lakhs. After multiple phone calls and visits to the Showroom, we had managed to get the price down to 43.5L OTR with the MyAudi Connect Dongle and Audi Mats (about 30k) accessories bundled in.
But the dealer was only willing to offer this price on an Ibis White car with the brown interior. Both the interior combinations are really nice in the A4 and me and my brother wanted to get the black and brown interior as it is rarer and would age well with the black plastics lower down.
But both parents thought that the dark interior and grey headliner made it seem smaller than it was and really liked the beige interior of our Jetta as well. So they vetoed down our brown interior wish and we told the dealer we wanted a beige interior.
For the exterior, since our Jetta was white, we wanted a change. But my father travels to many small towns across Maharashtra and the car is subjected to a lot of dust and other elements. So we decided against the Black and Navarra Blue since that would have to be maintained a lot. We went for the Floret Silver which will age well and is the easiest to maintain and the best at hiding scratches.
A few discussions later, the dealer agreed to give us a Floret Silver + Beige Interior Audi A4 Premium. I still thought that we could lower the price down by 1-1.5 lakhs and wanted to hold firm but it was already 28th of Dec and Audi had announced a 4% hike on prices effective 1st of January. So we finally bit the bullet and paid the full amount before the 31st of Dec 2021 with a delivery date of the 6th of Jan decided.
The car was in Aurangabad at that time in the plant and we decided that they would get the car to Pune by the 2nd or 3rd of January after which I would go down for a PDI and then they would send it for registration. All in all, considering that we got the RTI insurance with all the add ons from the dealership itself to avoid any future hassle, we thought it was a decent enough deal.
PDI and VIN check + a drive in an S5
I initially was apprehensive about paying the entire amount before the PDI since it would place us at the mercy of the dealer. But they were adamant that post 31st Dec, the price would go up by 4-5 L minimum. Anyway, after the payment, we let them be till the 3rd of January post which I was calling them every day to ask if the car had arrived in Pune. 3 days went by and there was no progress as they told us that the transport lorry which carries 6-8 cars at a time was not yet full with cars and wouldn't be dispatched till at least 5 cars are allotted to Pune.
On the 6th of January, me and my brother had a frank talk with the SA and the manager saying that we had done what they had asked for and we don't care how, we want the car delivered by the 11th of January (since that is my birthday). To be fair to them, they took action and our car was brought down from Aurangabad in a single car truck which was owned by the dealership at their cost.
On the 8th of January, I called up our SA who said we were ready to go to the yard and do the PDI. I reached the showroom in our Jazz from where we would drive to the factory. As the A4 TD vehicle was not available on that day, he said we could take the A6. At that time I was casually looking at the S5 with Quattro and 360 hp standing on the showroom floor and he asked me, "Do you want to drive that to the yard?"
Me, a 21 year old who had never driven a car with more than 140hp, responded," Sure, if you think I won't crash it". And that was that. We took out a red Audi S5 with Alcantara interiors and I drove the 23 odd kilometres to and fro from the showroom to the yard. It was absolutely exhilerating. We drove on backroads with minimal traffic where I could do around 0-80 kph within 4 seconds and I would let up once I heard the 80 kph chime. And the best part was that even with the lower GC, it did not scrape any normal speedbreaker (of course I had to go really slowly, but still commendable). Further gave me confidence that the A4 wouldn't scrape its underbelly anywhere.
When we reached the yard, the car was still in the truck with all of its doors, bonnet, roof wrapped with only the lower bumpers exposed. We took a walk around the yard and service centre (where I saw 2 R8s collecting dust) and then the car was unloaded from the truck in front of my eyes. The SA gave me the keys and said you can happily check what you want. I just took a quick walkaround, checked for scratches both outside and inside, turned on the ignition and checked if all the major electronics were working and then asked about a couple of smudges on the rear seat and armrest. He assured me that they are cleaned before delivery.
Then took a look at the engine bay and took a photo of the VIN and immediately sent it to my dear friend and BHPian fluidicjoy who checked the VIN for me and said everything was in order. The date of mfg of the car was 26th of November 2021. Considering that the Aurangabad plant was shut from early Dec 21 to mid-Jan 21, we were convinced that the car was as new as it can be. I gave the go-ahead to the SA and came back home satisfied.
Delivery Day
As I turned 22 on the 11th of January, I was super excited for the new car. That is all I could think about as I came home from my industrial training and called up the SA to verify if everything was in place.
We reached the Showroom at 5 pm. My parents in our old Jetta and me and my brother and our driver kaka in the Vento. We had finalised a deal for our Jetta and told the buyers that we would handover the Jetta the day that we got the new car. So even they arrived at the Audi showroom to take the Jetta. We were without our third car for literally the small matter of an hour. It was planned to perfection!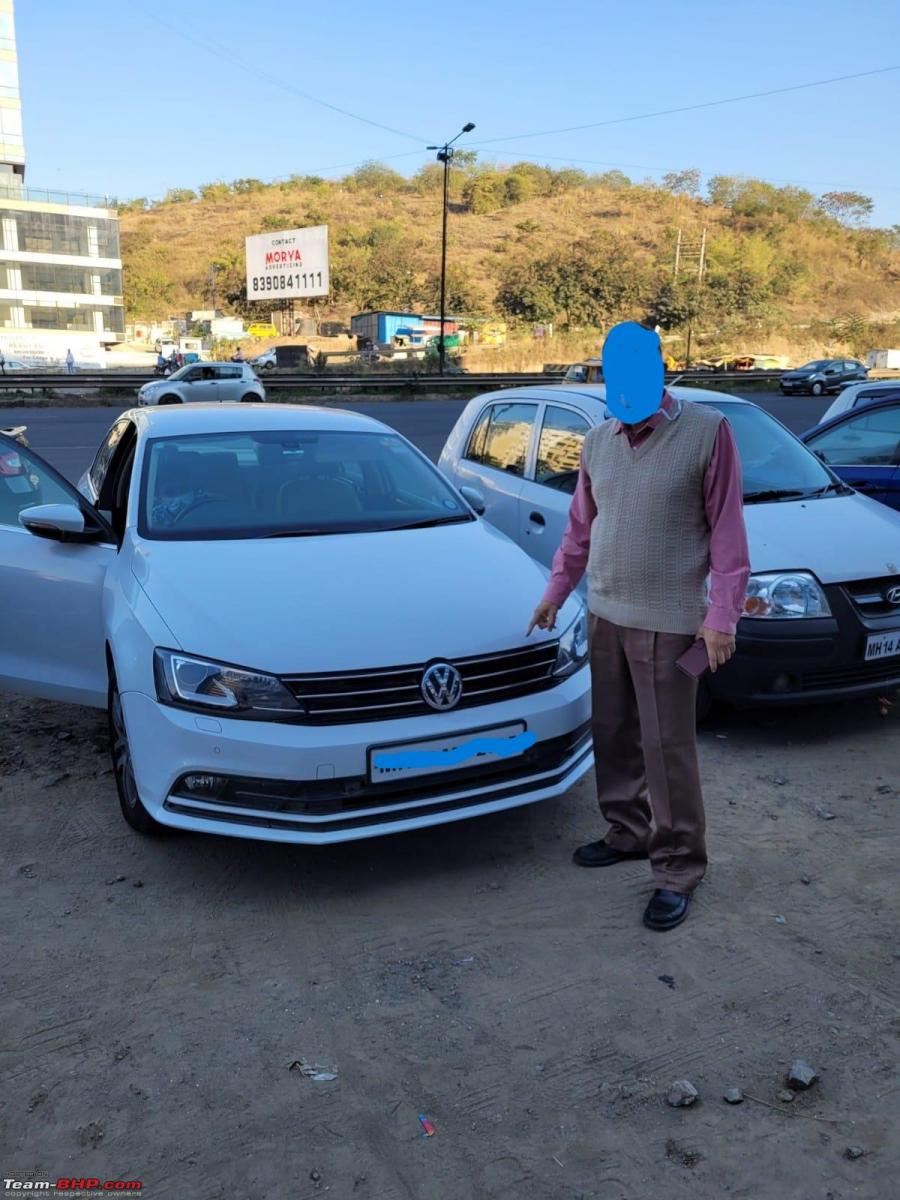 We took a photo of my father with his favourite Jetta, said good bye to it, completed the documentation with them and then proceeded to go inside the showroom where they videograph you and the entire delivery. After having some refreshments, the CRM team ran through all the documentation after which we went to the delivery area where the car was ready for us under the red satin cover for the unveil. All 4 of us unveiled the car together and did a small pooja, cut a cake which said 'Happy Birthday' instead of 'Congratulations' and then shared the cake with all the staff. The ODO reading was 34 km. Very acceptable.
After that, the SA explained all the features to my father and our driver kaka as me and my brother spent some time going around the car appreciating the end of a long and eventful journey. After everything, it was time to click some photos and the SA and manager were very eager to take photos with just the two of us and were telling my parents how diligent we were in handling everything.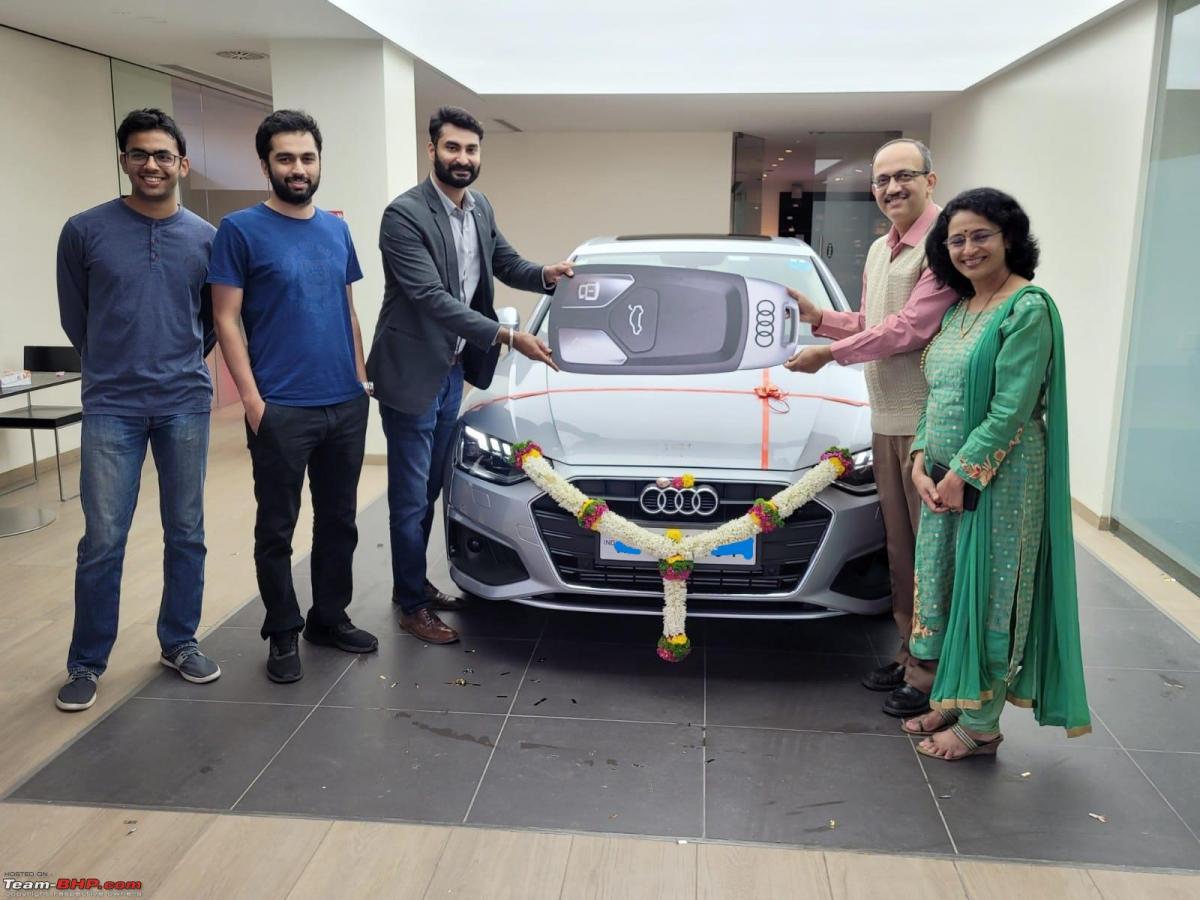 Indeed, it was only the first time my mom was seeing the car in the flesh and the second time my dad saw an A4 up close. The SA and manager also told us it was the first time that the purchase decision was taken entirely by the young ones (22 and 26…not too young) without the parents even coming to the showroom before that. After we were happy with everything, we drove off to go to our grandmother's house and show her the new car.
Really liked that there was around 200 km range in the car unlike normal car deliveries where you can only drive till the next petrol pump. When we reached my grandmother's house, my dad got a call from the hospital and had to go urgently. So he drove us all to the hospital and told me to drive the car home. At 7.30 pm, in peak traffic. In a small lane where a digger was carrying out roadworks. Bikes coming from the wrong side because of the diversion.
It took all the courage I had to inch the car slowly towards our home. I was so afraid of scratching it that a 7 min journey took us 20 minutes. As day turned into night though, we reflected on the car and my parents were really happy with it. And so were we…
After a week, the dealership sent us some photos, a well made film of the delivery and the Extended Warranty Document which cost us an additional 90k. So no worries now till 2027 and beyond as well hopefully.
Summary of our purchase
Car: Audi A4 40 TFSI – (Floret Silver + Beige Interior)
Variant: Premium
Model Year: 2022
Price OTR: 43.5 + 90k (extended warranty)
Accessories: MyAudi Connect dongle, Mats
Continue reading BHPian sauravpat's ownership review for more insights and information.