As both Ford and VW turn increasingly toward electric power, each company has introduced an EV crossover to the American market. Let's take a closer look at the 2022 Ford Mustang Mach-E and the 2022 Volkswagen ID.4.
2022 Ford Mustang Mach-E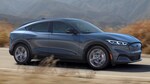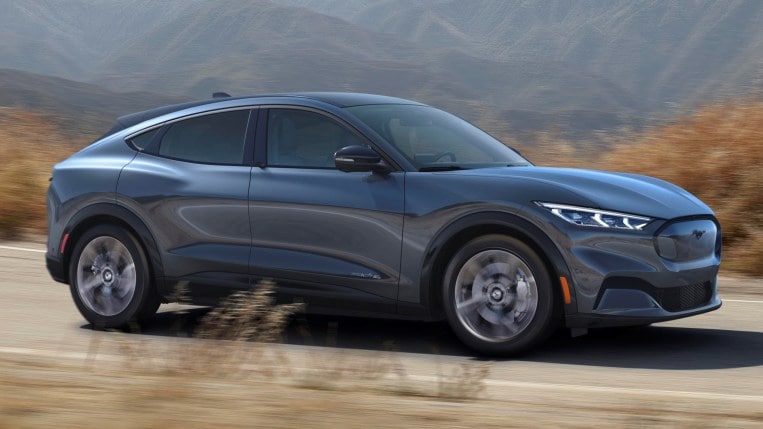 Starting Price: $43,995 | Price yours or View listings near you
Above Average: 300-mile maximum range; crossover practicality; loaded with tech; optional all-wheel drive; fun to drive.
Below Average: Unknown reliability; top trims are nearly $20,000 higher.
Consensus: A brand new crossover EV, the 2022 Ford Mustang Mach-E offers loads of practicality and space, a maximum range of 300 miles, and your choice of rear- or all-wheel drive. Given that it's a new model, both reliability and resale values are unknown.
2022 Volkswagen ID.4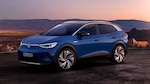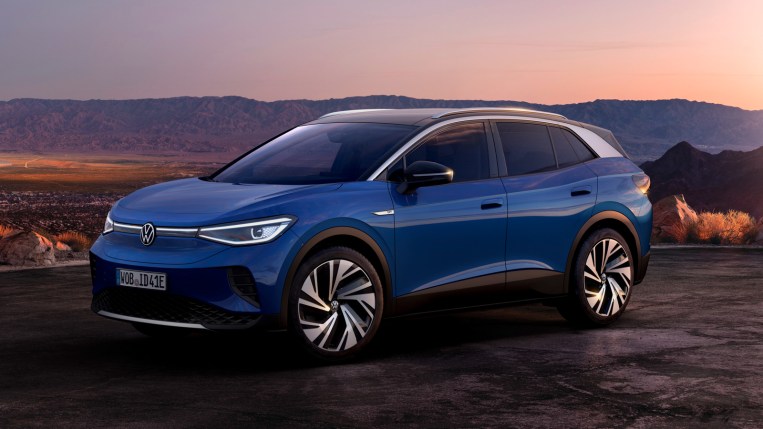 Starting Price: $41,190 | Price yours or View listings near you
Above Average: 250-mile range; optional all-wheel drive; 2,700-pound towing capacity; great standard safety features.
Below Average: Heavy; no spare tire; no volume knob for the stereo.
Consensus: A brand-new compact crossover EV, the 2022 Volkswagen ID.4 is comfortable, practical, and boasts a 250-mile range. The weight keeps it from being the sportiest member of the segment, but the interior is quiet and comfortable.
Mach-E vs. ID.4: Sport or Comfort
Ford Mustang Mach-E
With Ford planning to unveil a large number of EVs in the next few years, it wanted to make a splash with the first crossover in the lineup. Hence, the Mustang name, formerly reserved for the brand's legendary sports car, has been chosen to launch the brand's EV effort.
Four trims provide a few different ranges or levels of driving, with the base having a very usable 230 miles of range and the rear-drive extended range having 300. The GT is the much sportier and quicker variant, with an estimated range of 250 miles. But 230 miles is still plenty for daily driving and even some road trips if the stops are planned carefully.
Having named it Mustang, Ford knew the crossover had to be sporty, and it is, with a suspension that can easily handle a canyon road and even a little performance driving if you're up to it. In Whisper mode, the Mach-E becomes serene and quiet.
Inside, the 2022 Mach-E is innovative and modern, with plenty of storage options and ample space even for taller passengers. The cabin is airy and spacious. With just under 30 cubic feet of space behind the rear seats that expands to nearly 60 with them folded, the Mustang Mach-E is practical as well.
There are numerous available options in the 2022 Ford Mustang Mach-E, but standard features are comprehensive, including FordPass Connect (allows your phone to operate as a key), a 15.5-inch infotainment screen, Apple CarPlay/Android Auto, 4G LTE, Wi-Fi, and front and rear USB ports.
Also included are Sync4A with navigation and Ford's CoPilot360 suite of safety tech. This includes reverse brake assist, reverse sensing, blind-spot monitoring with cross-traffic alert, pre-collision assist, lane-keeping assist, a rear camera, and automatic high beams. Optional is Co-Pilot360 Active, with a semi-autonomous driving mode. Prices can climb above $60,000, but the Mach-E is eligible for a $7,500 federal tax credit.
Volkswagen ID.4
Like Ford, Volkswagen is also putting its eggs into the EV basket, and the 2022 ID.4 is the first of the company's new generation of EVs to come to the U.S. The base model is rear-wheel drive, with a rear-mounted electric motor making 201 horsepower and giving the ID.4 250 miles of range. An all-wheel-drive variant has motors in both axles and makes 295 horsepower, but range is reduced to 230 miles.
Acceleration is smooth rather than spritely, perhaps owing to the ID.4's considerable weight, although there is a Sport mode with a bit more punch. Mostly the crossover is focused on comfort, with a very quiet cabin that's well insulated from the outside. Properly equipped, the ID.4 can tow up to 2,700 pounds.
Inside, the interior is minimalist but spacious, with ample space for four and a usable 33 cubic feet of space behind the rear seats. That area expands to 64 with them folded. Unlike many of its EV competitors, however, the ID.4 does not have space in what would normally be the engine compartment in front.
Standard features include heated seats, rain-sensing wipers, wireless Apple CarPlay/Android Auto, and a 10-inch touchscreen. Also included are several drier assist and safety features, including forward collision warning, adaptive cruise control, and rear cross-traffic alert, among others.
Not only does the ID.4 qualify for a $7,500 federal tax credit, but ID.4 owners get three years of unlimited charging at Electrify America fast chargers, which can bring the battery to 80% in about 40 minutes.
Similarities
Rear- or all-wheel drive; good standard safety features; cargo capacity.
2022 Ford Mustang Mach-E Advantages
Extra storage in front trunk; sportier manners; base power.
2022 Volkswagen ID.4 Advantages
Lower starting price; towing capacity; three free years of Electrify America charging.
Which One is Right for Me?
If you prefer something a bit sporty, quick and fun to drive, the 2021 Ford Mustang Mach-E lives up to its namesake, with style and practicality but also some entertainment from behind the wheel.
If you're the sort who prioritizes a ride that's not only steady but calm and quiet, the 2021 Volkswagen ID.4 is a great choice. It offers nearly 250 miles of all-electric range, a cosseting cabin, and decent options in its available upgrade packages.
Ready to buy a Ford Mustang Mach-E or Volkswagen ID.4? Shop for one on sale now near you.
| | | |
| --- | --- | --- |
| | 2022 Ford Mustang Mach-E | 2022 Volkswagen ID.4 |
| Popular Powertrains | | |
| Electric Motor | 198 kW AC synchronous | 109 kw Permament magnet |
| Horsepower | 266 hp | 201 hp |
| Torque | 317 lb-ft | 229 lb-ft |
| EPA Driving Range | 230 miles | 250 miles |
| EPA Fuel Economy | 100 combined/105 city/93 hwy MPGe | 97 combined/104 city/89 highway MPGe |
| Level 2 Charging Time | 8-9 hours | 7-10 hours |
| Battery pack | 66 kWh Li-ion; 288 cells | 82 kWh Li-ion; 288 cells |
| Also available | 250/300-mile range; RWD | 230-mile range; AWD |
| Specs | | |
| Warranty | 3 years/36,000 miles | 4 years/50,000 miles |
| Battery warranty | 8 years/100,000 miles | 8 years/100,000 miles |
| NHTSA Safety Rating | n/a | n/a |
| Max Seating Capacity | 5 | 5 |
| Wheelbase | 117.0 inches | 108.9 inches |
| Overall Length | 186.0 inches | 180.5 inches |
| Width | 74.0 inches | 72.9 inches |
| Height | 63.0 inches | 64.4 inches |
| Turning Diameter | 38.0 feet | 33.6 feet |
| Headroom, Front | 38.8 inches | 41.1 inches |
| Headroom, Rear | 38.2 inches | 38.4 inches |
| Legroom, Front | 41.7 inches | 41.1 inches |
| Legroom, Rear | 38.1inches | 37.6 inches |
| Shoulder Room, Front | 57.6 inches | 57.5 inches |
| Shoulder Room, Rear | 55.9 inches | 55.9 inches |
| EPA Passenger Volume | 101 cubic feet | 99.9 cubic feet |
| Cargo Volume | 29.6/59.7 cubic feet | 33.0/64.2 cubic feet |