The 2022 Mazda CX-30 and 2022 Chevrolet Trailblazer are sporty, fun-to-drive small SUVs that are as stylish as they are affordable. Here's how they compare.
2022 Mazda CX-30
2022 Mazda CX-30 Starting Price: $23,500 (est.) | Price yours or View listings near you
Above Average: Upscale styling; premium interior; most power in class; standard all-wheel drive; sporty and enthusiastic handling; comprehensive driver assists; available 2.5 Turbo model.
Below Average: Infotainment system learning curve; snug rear seating; stingy feature list requires purchasing top trim level.
Consensus: The CX-30 bridges the gap between a sports car and an SUV. Its standard safety features and high seating position provide the best of both worlds. A long list of options includes an available 2.5-liter turbo-inline-4 engine with cylinder deactivation on the premium trim level.
2022 Chevrolet Trailblazer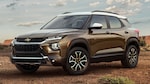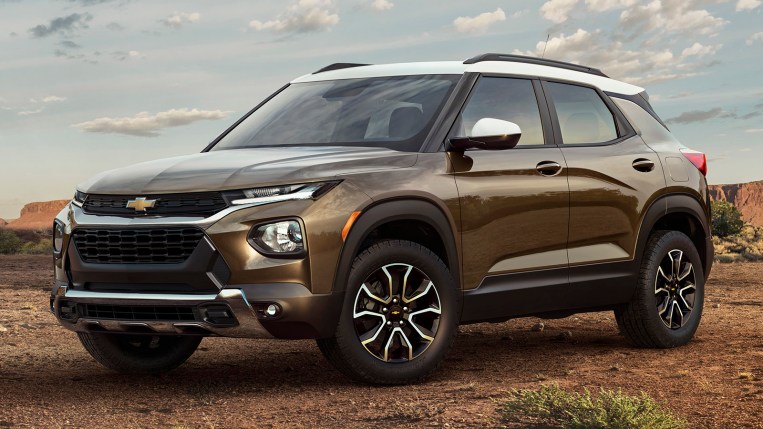 2022 Chevrolet Trailblazer Starting Price: $21,600 | Price yours or View listings near you
Above Average: Stylish looks; affordable pricing; roomy interior; good standard infotainment and safety tech.
Below Average: So-so performance from both engines; has a case of the jitters on rough roads; cruise control is available at extra cost.
Consensus: The Trailblazer borrows the name from a Chevy SUV of that past that was actually much larger. This one has a low starting price, good standard features, and decent fuel economy.
CX-30 vs. Trailblazer: Town and Country
Mazda CX-30

The Mazda CX-30 is a subcompact SUV that pushes the envelope in what we expect from such a vehicle. Smaller than the CX-5 compact but larger than the discontinued subcompact CX-3, it offers style, an engaging character, and a wide array of standard technology and safety features.
The interior has a near-luxury vibe and feels larger and airier than the CX-30's size would suggest. Still, some second-row passengers may feel slightly cramped. With its enthusiastic road manners and handling characteristics, this could be the best-driving subcompact SUV in the segment today.
New for 2022: All CX models will now receive standard all-wheel drive. The CX-30's standard power comes from a 2.5-liter SKYACTIV-G inline-4, producing 186 horsepower and 186 lb-ft of torque. Those with a taste for more power can choose the 2.5-liter turbo inline-4 to get 227 horsepower and 310 lb-ft of torque with 87 octane or 250 hp and 320 lb-ft of torque with 93-octane fuel.
Pricing is not available yet for the 2022 CX-30, but we expect that everything will increase slightly. That includes the turbocharged 2.5-liter inline-4, leather seating, Bose premium audio system, head-up display, navigation, and more.
2022 Chevrolet Trailblazer
The Chevrolet Trailblazer is a 4-door SUV with hatchback and seating for five passengers. We think it offers substantial room for a subcompact. There's plenty of rear-seat legroom and if you fold those forward, you can carry upwards of 54.4 cubic feet of cargo.
Unlike the sporty hatchback-looking CX-30, the Trailblazer is more of an upright SUV that sports a faux skidplate, contrasting roof, and prominent body cladding. Despite these off-road styling cues, the Trailblazer comes in front-drive with all-wheel drive an option costing $1,500 to $2,000 depending on trim level.
If you were expecting a beefy 4-cylinder or a stout V6, you might be better off looking at one of the Trailblazer's competitors instead. That's because, under the hood, buyers will find a base 1.2-liter turbocharged-inline-3 making 137 horsepower and 162 lb-ft of torque to the front wheels. A 1.3-liter turbo-inline-3 offers a more impressive 155 horsepower and 174 lb-ft of torque.
While the front-drive models include a continuously variable transmission (CVT), buyers may find the AWD model more satisfying to drive with its 8-speed automatic.
Similarities
Tidy exterior dimensions; choice of engines; NHTSA 5-star safety ratings.
Mazda CX-30 Advantages:

More power; 4-cylinder engines; standard all-wheel drive; sleek styling.
Chevrolet Trailblazer Advantages:
Fuel economy; cargo space.
Which One is Right for Me? 
The 2022 Mazda CX-30 offers an alternative to the segment's boxy standard looks. It has a premium look inside and out and offers great power and crisp handling
The 2022 Chevrolet Trailblazer sports more traditional SUV styling. Trailblazer starts at a lower price, but adding all-wheel drive eliminates that advantage.
Ready to buy a 2022 Mazda CX-30 or a 2022 Chevrolet Trailblazer? Shop now for one on sale near you.
| | | |
| --- | --- | --- |
| | 2022 Mazda CX-30 | 2022 Chevrolet Trailblazer |
| Popular Powertrains | | |
| Engine | 2.5-liter I4 | 1.2-liter I3 |
| Horsepower | 186 hp @ 6,000 rpm | 137 hp @ 5,000 rpm |
| Torque | 186 lb-ft @ 4,000 rpm | 162 lb-ft @ 2,500 rpm |
| Transmission | 6-spd automatic | CVT |
| Fuel Economy | 28 mpg (25 city/33 hwy) | 30 mpg (29city/31 hwy) |
| Also Available | 2.5-liter turbo I4 | 2.0-liter turbo I4; AWD |
| Specs | | |
| Warranty | 3 years/36,000 miles | 3 years/36,000 miles |
| Powertrain Warranty | 5 years/60,000 miles | 5 years/50,000 miles |
| NHTSA Safety Rating | 5 stars | 5 stars |
| Max Seating Capacity | 5 | 5 |
| Wheelbase | 104.4 inches | 103.9 inches |
| Overall Length | 173.0 inches | 173.5 inches |
| Width | 70.7 inches | 71.2nches |
| Height | 61.7 inches | 65.2 inches |
| Turning Diameter | 34.8 feet | 36.8 feet |
| Headroom, Front | 38.1 inches | 40.0 inches |
| Headroom, Rear | 38.3 inches | 38.4 inches |
| Legroom, Front | 41.7 inches | 40.9 inches |
| Legroom, Rear | 36.3 inches | 39.4 inches |
| Shoulder Room, Front | 55.6 inches | 55.4 inches |
| Shoulder Room, Rear | 53.6 inches | 53.8 inches |
| EPA Passenger Volume | 94.1 cubic feet | 98.2 cubic feet |
| Cargo Volume | 20.2/45.2 cubic feet | 25.3/54.4 cubic feet |