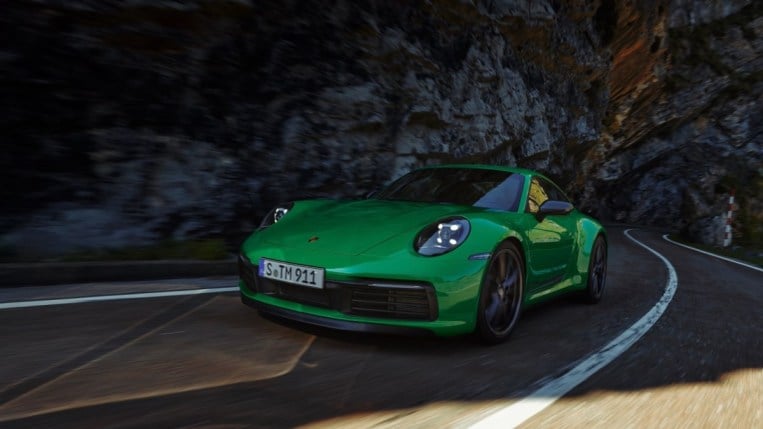 If you couldn't quite find the car you wanted among the 24 trim levels of 2023 Porsche 911 available last week, we have great news for you. There's now a 25
th
model in the configurator.
Never let anyone tell you Porsche doesn't give you options.
The Porsche 911 Carrera T slots below the Carrera S but above the Carrera 4, and we'll give you a minute to adjust your spreadsheet.
Back? OK. The Carrera T starts at $116,600, plus $1,450 for delivery, processing, and handling. Porsche says the T stands for Touring "and describes models that offer a purist driving experience with exceptionally sporty equipment."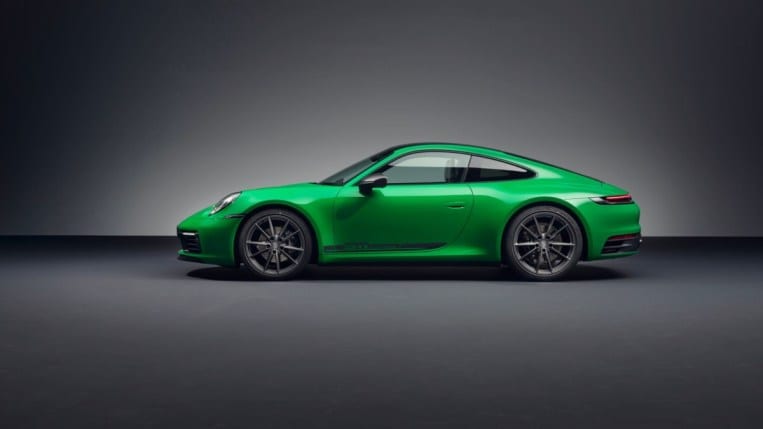 Delete Rear Seats, Add Torque Vectoring
It's a performance model, coming only in rear-wheel drive. The Carrera T strips some weight from the standard 911 – losing the rear seats and some sound insulation and even mounting thinner glass. It gets a 7-speed manual transmission or an 8-speed dual-clutch gearbox for the same price.
The T uses the same 3.0-liter flat-6 engine found in the Carrera, making 379 horsepower.
It also borrows a few tricks from the more costly Carrera S. They include a limited-slip differential, a torque-vectoring system, and an adaptive sport suspension that keeps it 10 mm closer to the ground than the standard 911.
"On request, Porsche says, "the Carrera T can also be ordered with the optional rear-axle steering, which is also normally reserved for models from the Carrera S and up."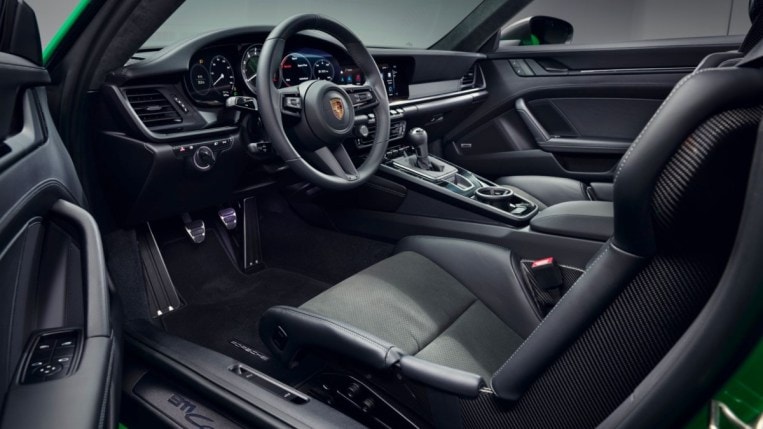 Porsche estimates the 911 Carrera T will get from 0-60 mph in 4.3 seconds with the manual transmission or 3.8 with the automatic.
Visually, it sits on staggered wheels – 21 inches in the back and 20 up front – painted glossy dark gray. The mirror caps are the same gray. The Carrera T model name appears low on the doors. The interior is a mix of dark gray and matte black but can be made more interesting with bright green seatbelts.
The configurator lists 12 colors. But the Carrera T is part of Porsche's new Paint to Sample program, which, the company says, "offers paintwork in over 110 available color tones."