It is a significant milestone in the WagonR ownership journey and I am happy to state that it has been a peaceful and stress-free ownership experience till date.
BHPian PVS recently shared this with other enthusiasts.
Maruti WagonR: 9 years ownership report – 1 lakh kilometres completed.
My tall boy – Blue Eyed Boy – 2012 "K" Series WagonR VXi completed its 9th year of existence and has successfully completed 1,00,000 kilometers on the odometer. Please note that I had pulled over to the side of the road, ensured that I was not obstructing traffic, switched on the hazard lights and unbuckled myself in order to get a close and clear view of the odometer.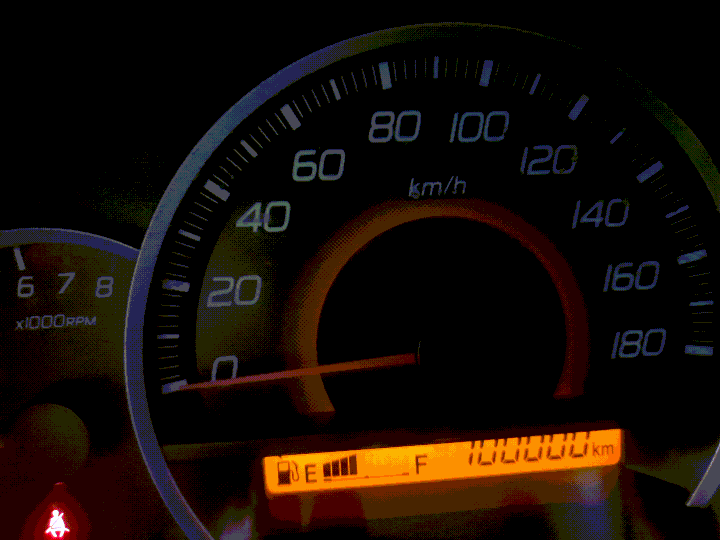 It is a significant milestone in the WagonR ownership journey, and I am happy to state that it has been a peaceful and stress free ownership experience till date. Here are a few pictures of the WagonR as it exists today. The pic with alloy wheels was taken prior to Jan 2021. Here are a few pics of the car: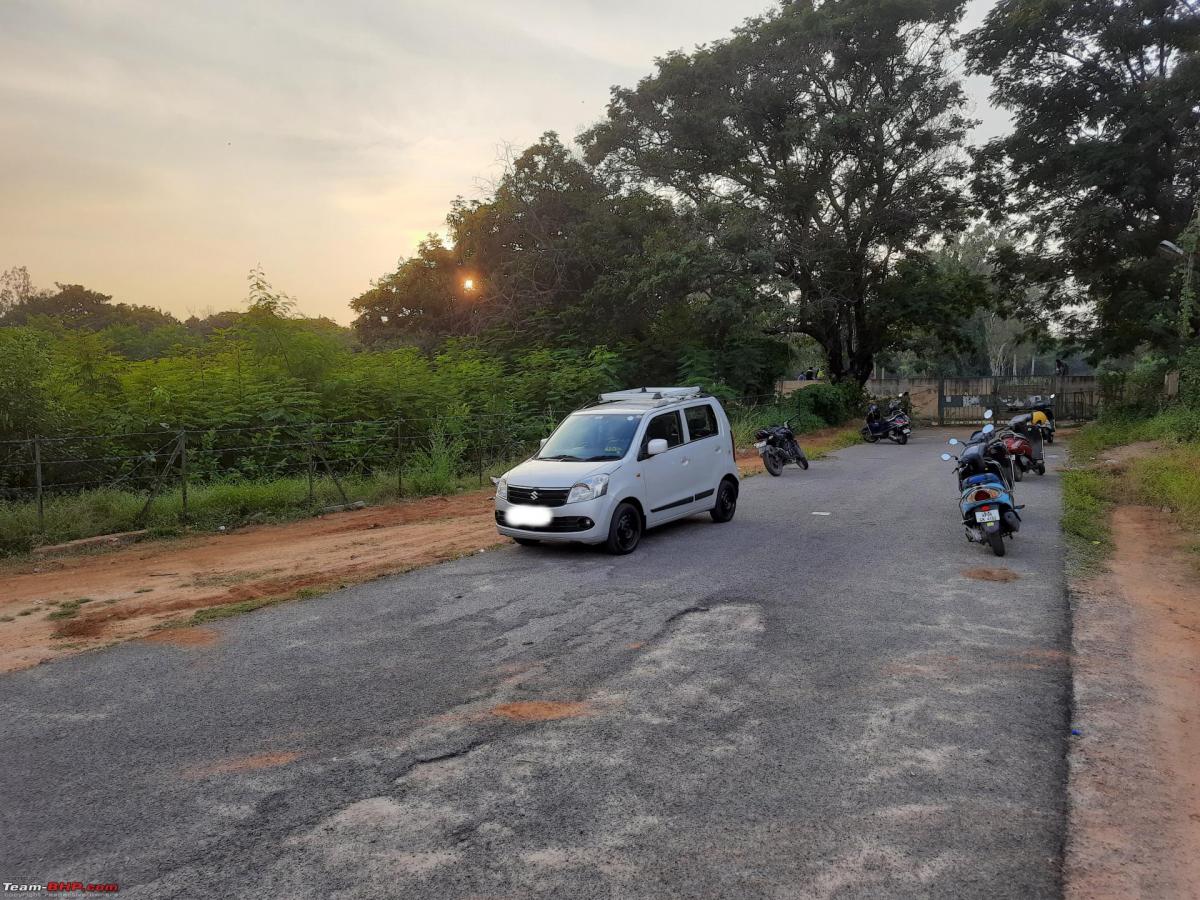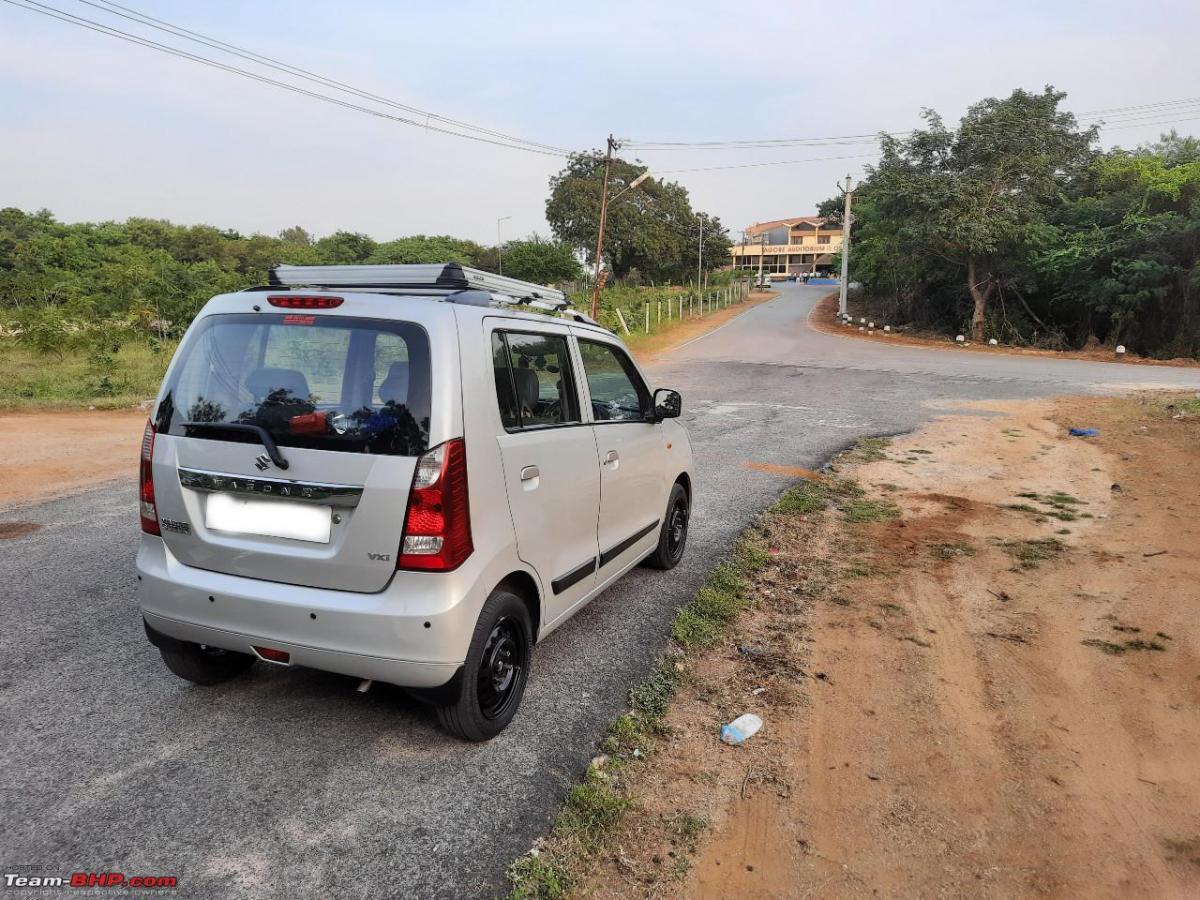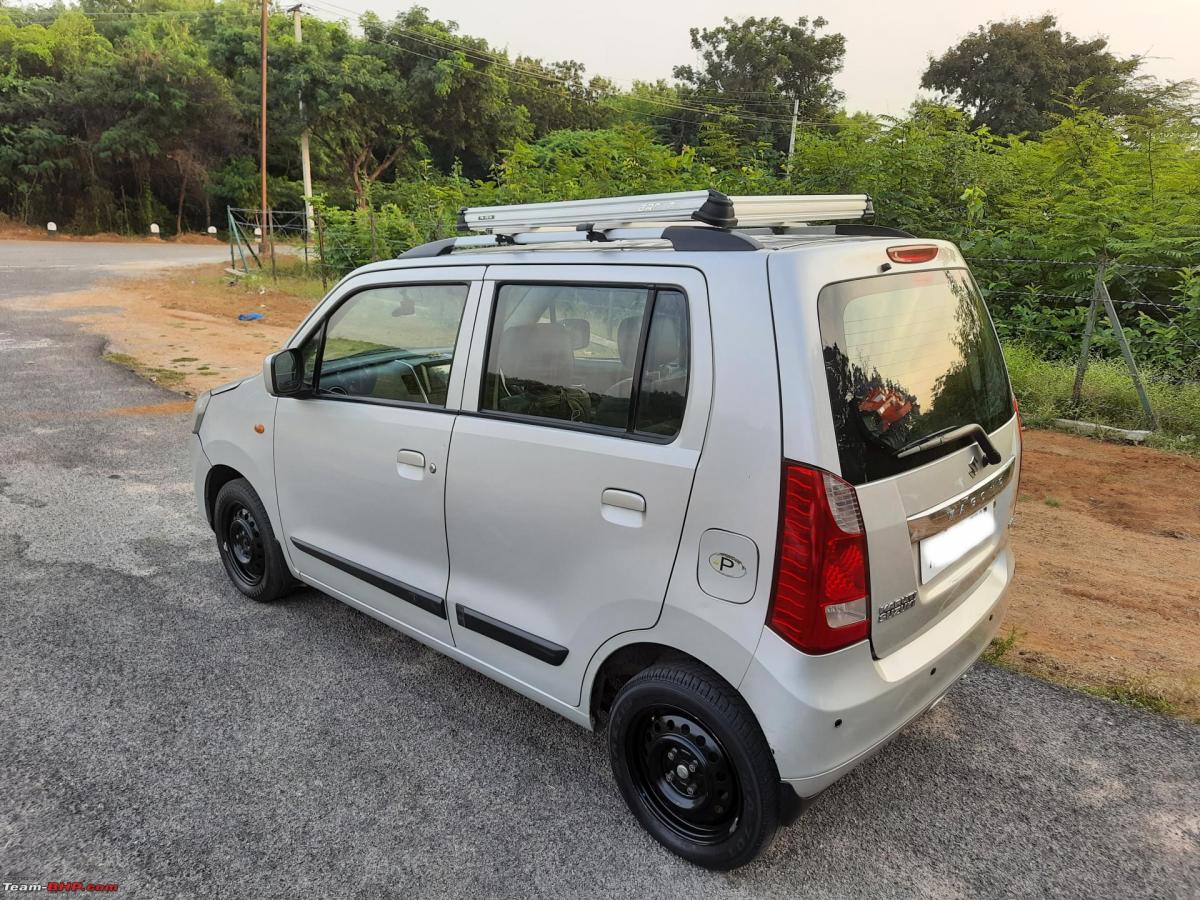 What I have liked in this car after 9 years with it:
Ease of Ingress and Egress: I am 6 foot 3 inches tall, and I absolutely have no problems getting in and out of the vehicle, given its tall stance. Even my aged parents are very much appreciative of the ease of ingress and egress into the vehicle.
Ease of Maneuverability: In the choc-a-block city roads where every inch is at a premium, its very easy to maneuver the vehicle given its relatively square profile. The BIG rear view mirrors and the high seating position gives me an excellent view of the surroundings of the car. and <touch-wood>, I have no dents on the vehicle.
Good in-cabin space with adequate leg room at the front and rear: I have traveled as a passenger in the rear seat many a times while the wife took over the wheel, and I was seated pretty comfortably, with adequate head and leg room. However, the rear bench is seated for 2 adults, and 3 can be a squeeze.
Adequate Highway Performance: The peppy 1.0 Liter K series engine does have grunt to maintain decent speeds in the vicinity of 90 kmph. The vehicle is capable of higher speeds, however the ride tends to get bumpy and noisy, and the rear occupants tend to get tossed around especially near the expansion joints on the highway.
Ease of Maintenance: Availability of ASC near my place and the co-operative nature of the ASC personnel is a big positive factor. Many of the service advisors in the ASC recognize me, and give due care to my vehicle.
What I don't like in the vehicle:
Lack of low end torque.
Problematic reverse gear.
Noisy 3-cylinder engine.
ASC experience.
Lack of boot space and storage space.
I would request the readers to please visit my initial ownership thread located here (Maruti WagonR VXi Ownership Report. EDIT: 6 years up!) for information on the below points:
All the alternatives that were considered, and why I zeroed in on the Wagon R.
Complete booking & delivery experience with the dealership.
On-road price & discounts.
Extended warranties & service packages.
Engine type & variant I opted for.
Safety & related equipment:
This is a vehicle sans airbags and ABS, so the only safety features are the primary restraint systems (seat belts) and front crumple zones. I so wish i would have waited those 4 odd months and got the VXi(O) with ABS and airbags, but well, its water under the bridge now.
Number of kms at the time of writing my review:
100665 kms.
Usage pattern:
Till around October 2019, this car was my daily ride to the office (20 kms each way in dense city traffic) – so a daily mileage of around 40 kms. On weekends, occasionally this car would hit the highways. Apart from this, the car has been on multiple long distance trips as below:
From October 2019, when I started taking the Hyderabad Metro (Read my perspective in this (Hyderabad Metro and the way it changed my intra-city home to work commute) till March 2020, the usage dropped drastically with the car being taken out only on the weekends. And then the lock-down started, and the car cooled its heels at home, with quick getaways to nearby destinations only during weekends.
Comments on the exterior styling & design:
Well, after 9 years of ownership all I can say is this. This car may not be a "looker" and is often bandied about as a breadbox and a tin can, but honestly as a middle aged family person who values substance over style, I like the way its has been designed, as it suits my needs to the "T".
Overall build quality, fit & finish, paint quality and panel gaps:
Maruti vehicles are flimsily built (save for the S-Cross), panel gaps are everywhere and more pronounced along the bonnet, and there is a considerable flex in those panels, but after 9 years of ownership, the vehicle is actually holding up quite well, but for a few niggles. The power window switches are functioning without a fuss and so are the buttons for adjusting the RVMs. In cabin lights still function with the theater dimming effects, and the dashboard is holding up well.
Now coming to the niggles/wear and tear:
The bumper tends to get loose so expect money to go out of your pocket in keeping it in its place.
The gear knob has developed a minor crack. Its not a cause of concern though and I have already ordered a replacement and will fix it in the next servicing.
The ABC pedals pads have come off and need replacement.
Floor matting on the driver's side needs to be redone.
Wheels & tyres:
I felt that the 155/65 R 14 tyres are not apt for this model and an up-size is needed. Nevertheless, I have installed Bridgestone B 290ss in place of the stock Maxxis tyres.
Now coming to wheels, the stock steel wheels though durable look boring, so in 2017, I replaced the steel wheels with Neo alloys. The look of the vehicle changed quite a bit and it appeared a bit sporty. But alas, during the trip to Tirupati in January 2021, we hit a pothole at around 70 kmph, and the rear alloy wheel developed a crack, so I had to remove the alloys and install a fresh set of steel wheels. The earlier steel wheels were in a state of disuse for 4 years and had developed rust, and I wasn't too confident of putting those old steel wheels back in use, hence purchased a fresh set of steel wheels from Maruti ASC.
Interior space & comfort – front & back:
Head and leg room is adequate both at the front and rear ,even for a tall person like me. Seat pitch is narrow though, and you would be brushing shoulders with the front passenger. Space at the back is adequate, but again for 2 adults only OR 1 adult and 2 children.
Front seats are OK, however it would be advisable to get a lumbar support while doing long distances. Rear seat is flat so it is advisable to get a neck pillow and lumbar support in case you plan to do long distances.
Driving position, ergonomics, controls & MID:
Its easy to find a comfortable driving position in this car. The driver seat is not height adjustable though. Controls are ergonomically placed, I had no issues in operating the controls.
Visibility & size of mirrors:
Outer rear view mirrors are big enough to ensure excellen
t visibility on both sides of the vehicle. The fact that they are internally adjustable also helps quite a lot. I miss the auto dimming Internal RVM, that is now becoming a feature in many cars now. I plan to get that installed.
Air conditioner cooling & effectiveness:
As on date, the A/C is effective and cools down the cabin even on a hot day, without much fuss, however I have an important point to make here. I had to spend a considerable amount of money and time on A/C gas top-ups (I had the gas topped up on August and September 2015, March 2016, June 2016, March 2017, July 2017, April 2018, July 2018). Finally on July 2018, the A/C evaporator assembly and expansion valve were replaced and since then, I didn't again went in for a A/C gas top up.
So, if you are experiencing frequent loss of cooling, have the evaporator assembly checked up and replaced if needed.
Audio system & sound quality:
The stock audio system is quite mediocre in performance, with average quality sound coming out from the speakers. In the 2012 model, you get a CD player as well, which is passe. If you want to connect your phone, you would have to plug in a cable. That again is passe, and so out of place in today's world. I had to get a blue tooth FM transmitter and plug that into the car's 12V socket, and pair my smartphone.
Of course, ever since I changed the stock head unit with a touch screen unit, the sound quality has improved leaps and bounds. I now plan to get a sub woofer to enhance the acoustics.
So here is my piece of advice:
If you are buying a 2012 K series Wagon R, either change the stock HU or get a Blue tooth FM transmitter (similar to this)
Interior storage, practicality & boot space:
Interior storage options are very limited in this car, you will have to make do with aftermarket fitments like the rear seat organizer et al. There is space only to store one water bottle between the front passenger seats. You can place small bottles, tin cans, in the pull-out cup holder in front of the A/C vents.
Boot space again is limited, and if you plan to head out for a long drive for about 4 to 5 days, you will need to get a roof luggage carrier installed so that you could tuck away all those suit cases and bags on the luggage carrier and secure them with bicycle locks. Now I know many of you would raise eyebrows on luggage carriers, however, i have taken the family out on road trips to Karnataka with the luggage carrier loaded, and faced no problems either with the vehicle or with RTO folk. The new WagonR of course, has decent boot space.
Engine performance & drivability in the city:
Lack of initial torque makes this a pain to drive in the city many a time, and as I called out earlier, you would need to upshift. Apart from this, this car is very easy to drive around in the city. Given its boxy shape, you could squeeze it alongside parked buses, other obstructions et al. Its easy to park in the narrow parking spots. The reverse gear continues to be a pain though.
Engine performance & drivability on the highway:
The K-Series 3 pot motor is a spirited performer on the highway, and though of late I am driving in a sedate manner, the initial 4 to 5 years of ownership was a pedal to metal style of driving, and the vehicle can make quick progress on the highway. However, watch out for the expansion joints and undulations, as the WagonR tends to jump around a lot, and your rear seat passengers definitely will not be happy. And of course, the cabin does tend to get a lot noisy. Drive at 80 to 90 kmph for a relaxed and stress free drive.
Overall opinion on the engine:
Noisy, inadequate low end torque, spirited performer.
Gearshift & clutch:
Gear shifting is relatively smooth, but for the reverse gear which takes an effort to engage at times. Even after 9 years, I still am not able to slot the reverse gear properly many a times. Clutch wear and tear depends on the driver, in my case I had to replace the clutch plates twice.
Overall NVH levels:
The 3 Cylinder engine tends to get noisy at higher rpm, and this coupled with the tyre noise make the cabin a noisy place on a spirited highway run. I opted in for 3M sound damping on all 4 doors, roof and boot, and also added heat insulation sheets under the hood, so the noise has reduced a bit.
Fuel efficiency in city and on highway:
Around 16 kmpl in city conditions, and around 20 to 21 kmpl on highway drives, when driven at sedate speeds of 80 to 90 kmph.
Suspension & ride quality (at low as well as high speeds):
Compliant at low speeds, highway rides tend to get bouncy especially at the rear. Using suspension spacers such as RogerAB does help to make the ride a bit smoother, and also lead to an increase in ground clearance.
Steering:
Found no issues with the steering, car accurately responds to direction change. As the speed increases, steering does tend to get lifeless.
Braking:
Adequate braking, however there were times when I felt that the brakes should have had more bit. Of late, when braking from high speeds, I experience a judder, and that is something that I will take care of in the next servicing.
Ground clearance:
The inclusion of coil spring adjusters (RogerAB) has increased the GC a bit( stock GC is 180 mm), and I am now more confident of navigating through slush, high speed breakers and broken roads, without any fear of the underbelly scraping.
Any particular likes:
Ease of maneuverability.
Ease of ingress/egress.
Adequate interior space.
Any particular dislikes:
Stock headlights are weak. Its advisable to install brighter aftermarket headlight bulbs such as Philips Xtremevision or Osram Night breakers.
Any niggles, problems or part replacements:
Multiple top-ups of A/C gas, before the actual root case was identified by the service advisor.
The car was left over at Chitradurga ASC on account of radiator cooling fan breakdown. The issue was fixed in a couple of days, and I came back from Hyderabad and drove the vehicle back to Hyderabad. After a few days, I again started facing problems with the cooling fan. My neighborhood hood ASC attributed the problem to shoddy work done by the Chitradurga team. I eventually had to spend time and money to get the fan fixed.
After I changed my clutch plate the second time, it was not even a month when the service advisor again felt that the clutch was hard and needed a replacement. I was like it has hardly been a month that the clutch pates were replaced so how come you are again suggesting clutch plate replacement. The SA indirectly hinted that may be I was riding the clutch. My patience ran out and from the next servicing onward, I moved to the FNG.
Quality of after-sales service; Cost of maintenance and upkeep:
The below graphic gives an idea of the general maintenance and upkeep. The cost of petrol has not been included:
Highway trips:
From August 2018 till date the WagonR has covered around 40,000 Kms.
On the highways, the Wagon R did the following trips:
Sakleshpur (Kadamane Estates) – Dharmasthala – Subramanya – Bangalore – Hyderabad – 2018.
Hyderabad – Kurnool – Hyderabad – November 2019.
Hyderabad – Kurnool – Allagadda – Tirupati – Tirumala Hills – Tirupati – Hyderabad – January 2021 – After this trip, I had to replace the alloy wheels with stock steel rims as the rear right alloy wheel took the brunt of impact when the car hit a pot hole at around 70 kmph on the two lane section of the Kadapa – Tirupati Highway, near Rajampet town, at night. Luckily, the tyres withstood the impact and th
ere was no hindrance to the journey. I was to eventually discover that one of the rear alloy wheel did take an impact, hence I had to switch back from alloy wheels to steel wheels.
Hyderabad – Adilabad – Kandala Mollal Gutta Falls – Hyderabad. Details can be found in this post (Weekend Getaways from Hyderabad).
Hyderabad – Mitte Falls – Hyderabad – Details can be found in this post (Weekend Getaways from Hyderabad).
Accessories:
Head Unit: From a company called OXYGEN (Rs 12 K). The accessories shop was promoting this heavily, and it looked OK. This is basically a tablet with Bluetooth connectivity and WI-Fi connectivity. I download Google maps, You Tube and a couple of other apps. The sound quality seems to have improved compared to the stock unit:
Noodle mats: Around 4K, fitted from the same shop. Much better than the rubber mats:
LED Cabin Lights: In-cabin illumination has improved leaps and bounds. Link to an image of the interior with LED cabin lights is here.
RNG EKO GREEN Emergency Hammer and Glass Breaker: Link to the product in Amazon is here.
Rear seat organizer by AXMON: Link to the product in Amazon is here.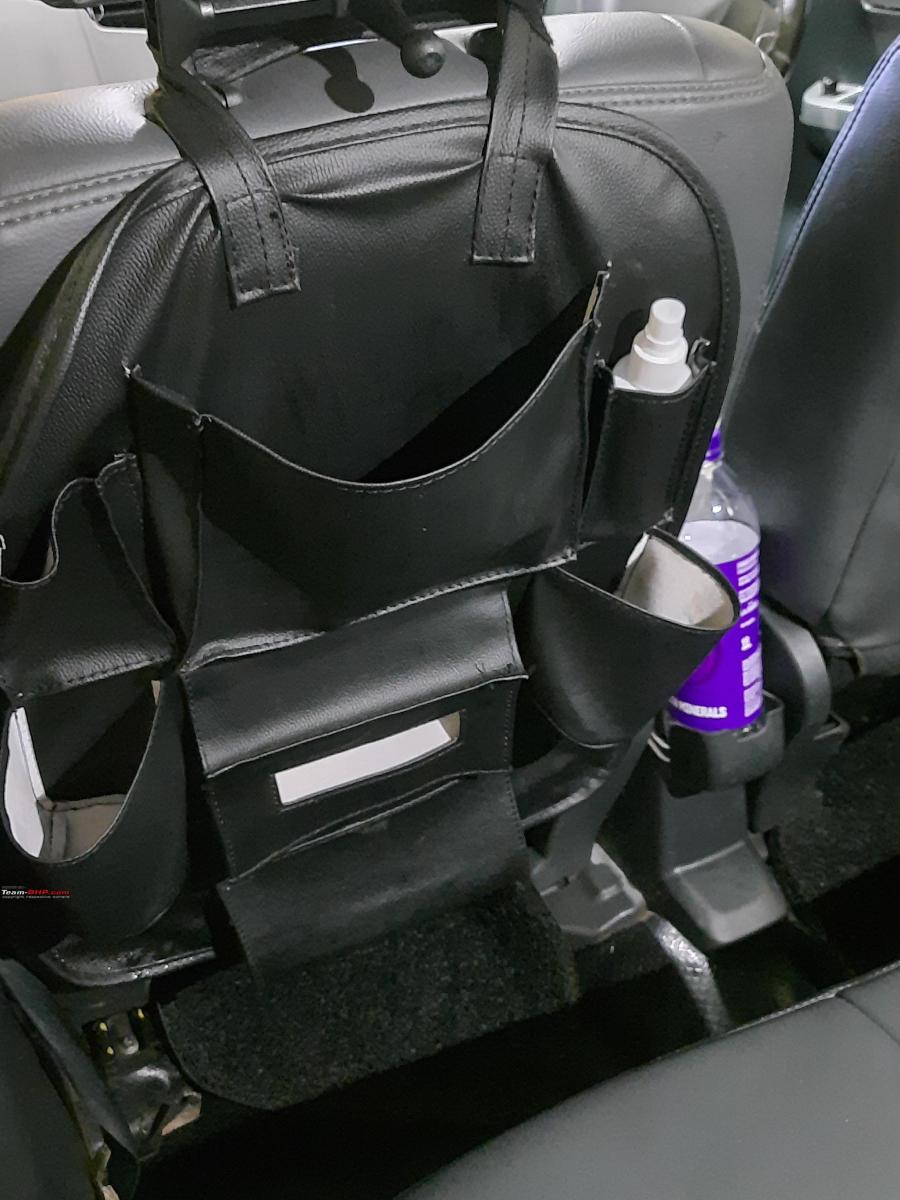 Car backseat headrest hook – Link to the product in Amazon is here.
Car backseat mobile/tablet holder: Link to the product in Amazon is here.
Car backrest memory foam: Link to the product in Amazon is here.
Car steering pedal lock: Link to the product in Amazon is here.
For in-car fragrance, Mangalam campure amphor cone: Link to the product in amazon is here.
What do I carry in the rear parcel tray/boot:
Umbrellas.
Jack.
Tyre Inflator.
Torch.
Jopasu Duster.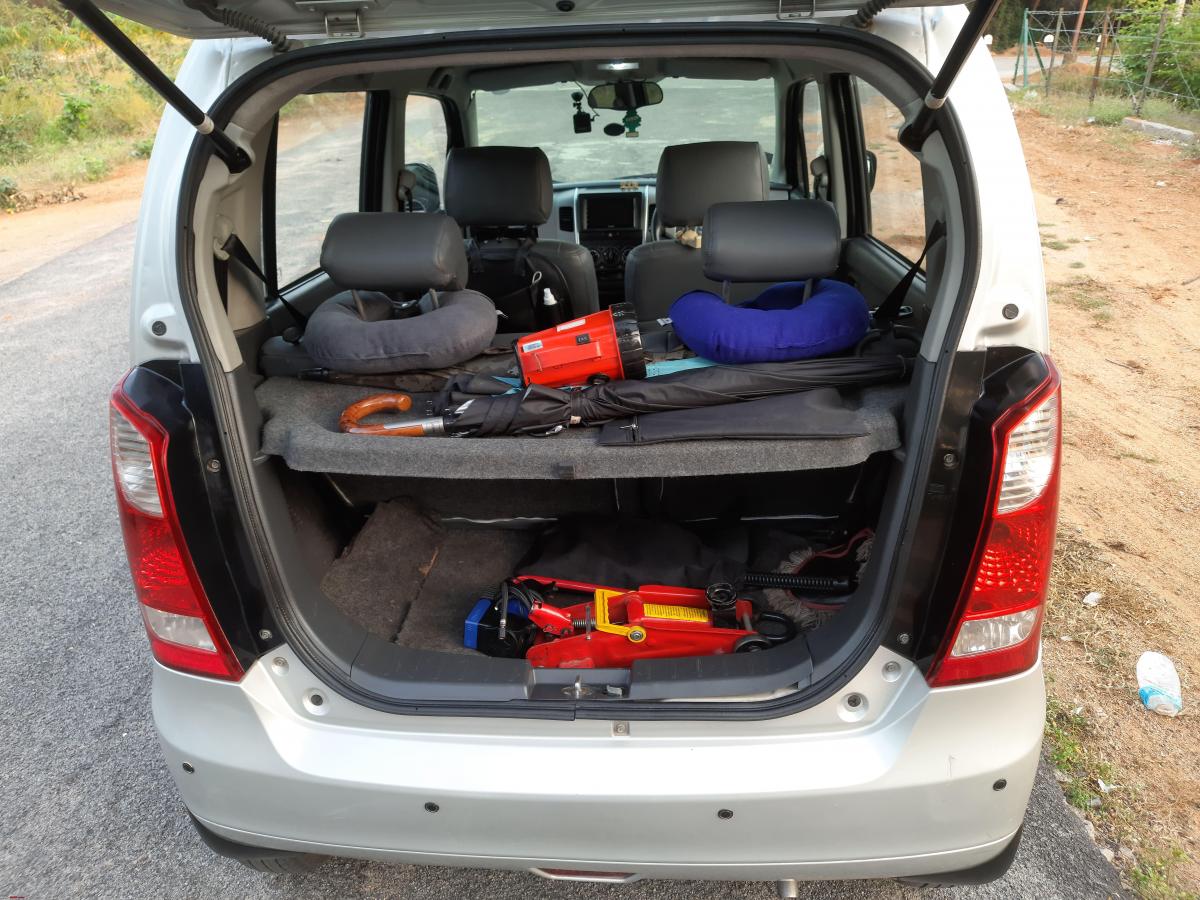 Accessories In the pipeline:
Sub-woofer: I saw a couple of products from GoMechanic and JXL in Amazon. Need to see if I could better products. I would need to consult the ICE section of T-BHP for additional inputs.
Hella auxiliary lights: The OSRAM night breakers are doing a decent job, however, after the pothole incident on the Tirupati trip, I felt the need for better front end lighting hence I am contemplating getting an additional pair of aux lamps fitted. I need to check out at my accessory store on this.
Car Washing and Cleaning:
I wash and wipe the car myself, preferably once a fortnight (wash) and once a week (thorough wipe, and clean with 3M products. I have been regularly using the following products and am very satisfied and a repeat customer of 3M products:
3M tyre cleaner.
3M dashboard polish.
3M interior cleaner.
3M car wash shampoo.
Formula 1 Wax/3M Liquid Wax.
For detailing and polishing, I use Formula One wax, and have very recently started using 3M Liquid wax and am quite satisfied with the results from both the products.The entire duration for washing the car, drying it with a blower, and then polishing it, cleaning the interiors, and the engine bay is around 2 to 2.5 hours, and is a very engaging pastime for me, especially during the weekends.
Conclusion; the road ahead:
I don't have the inclination to sell the car. I did come very close to selling this car, however, when I was actually looking at an Ertiga to replace this car, the buy back price quoted by the showroom for the WagonR seriously made me rethink my decision to sell this car. I have decided to hold on to the car, and this will serve as a good beater car as an when I get in a bigger car. I am looking at a timeline of 6 to 8 months, to get a bigger C-SUV/MUV/pre-owned SUV in the Rs. 10 to 13 lakh range, either new or pre-owned.
Check out BHPian comments for more insights and information.