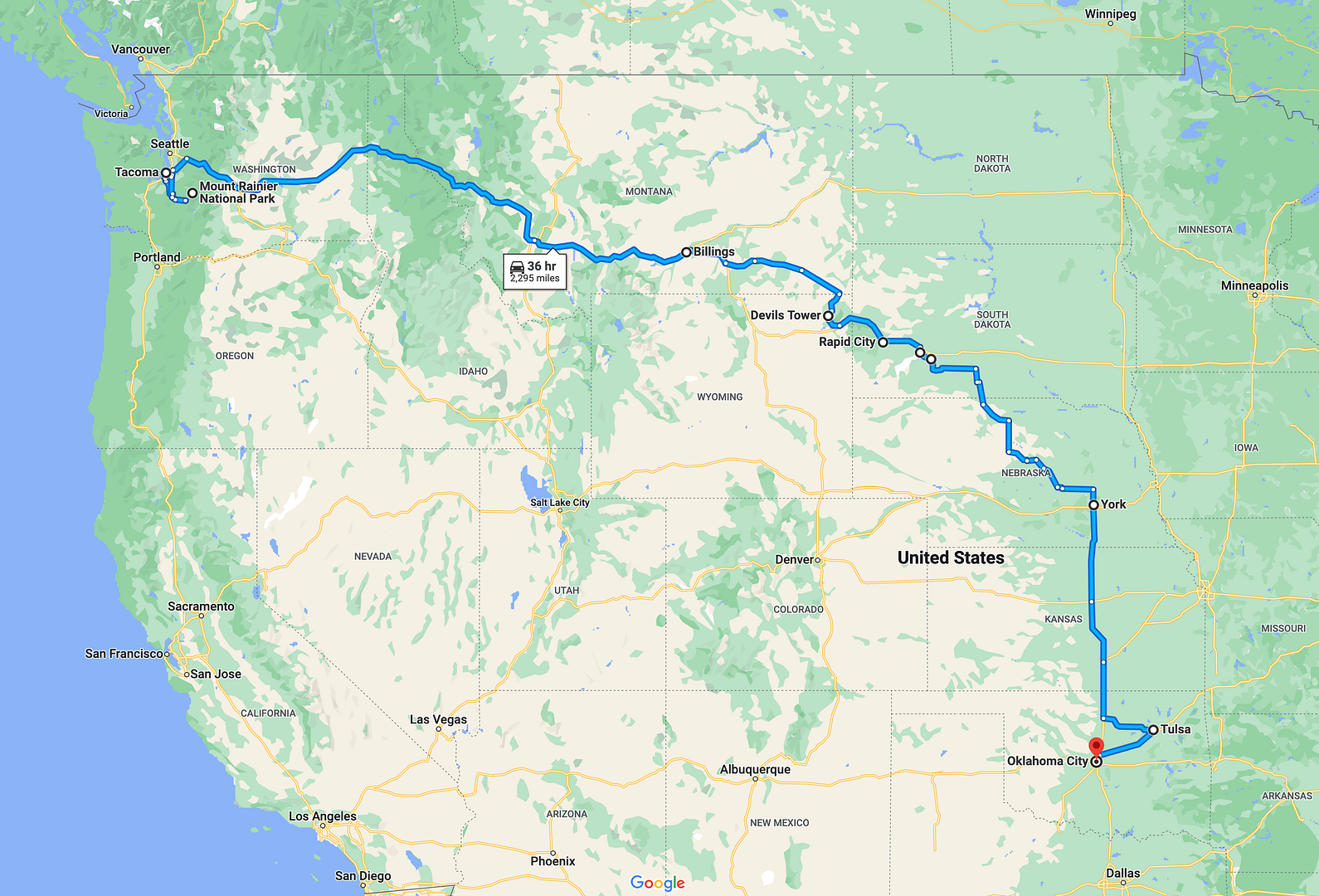 Days 5 and 6 of pre-PCD road trip:
York, Nebraska, Rocklahoma Music Festival, Tulsa Oklahoma, Weird Al Yankovic concert, Oklahoma City
Total Miles: 2288
I'm combining two days this time, since there's not too much to the drives, and similar evening events.
Since I grew up in Colorado, we have a natural rivalry with Nebraska, particularly in college sports. So it felt just a little like being being enemy lines, being in the state.
Not much change, though, in scenery, going straight south into Kansas. Still flat with fields.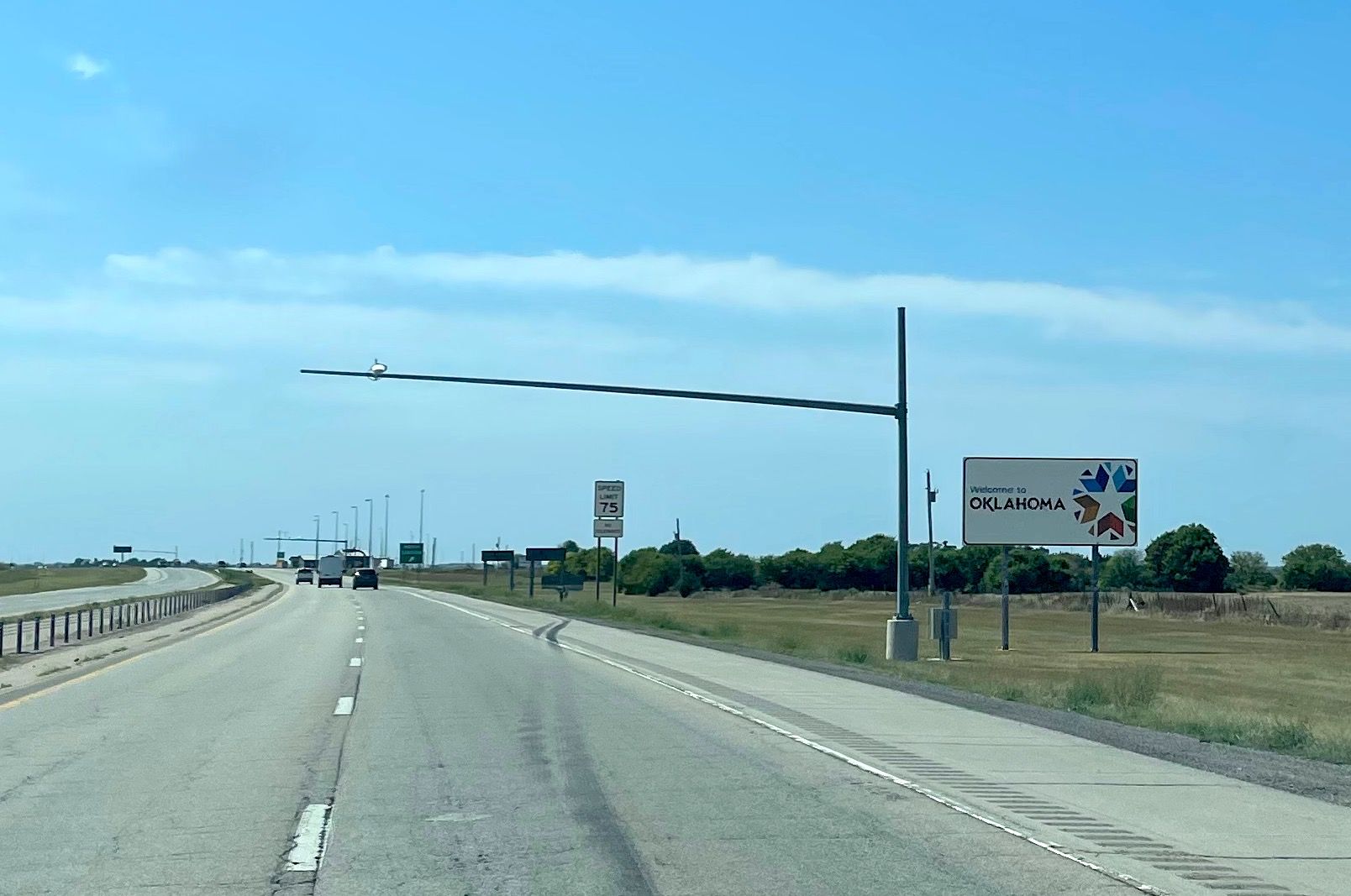 Finally made it to Oklahoma, which will be the end of this pre-PCD road trip, before the REAL part begins.
I actually lived in Enid, Oklahoma for a year when I did pilot training. Lots of hard work that year. But this time, I'm turning east off of I-35 to head to Tulsa.
Toll road to Tulsa. There's just a few toll roads in Kansas and Oklahoma.
Pretty lake on the way to Tulsa.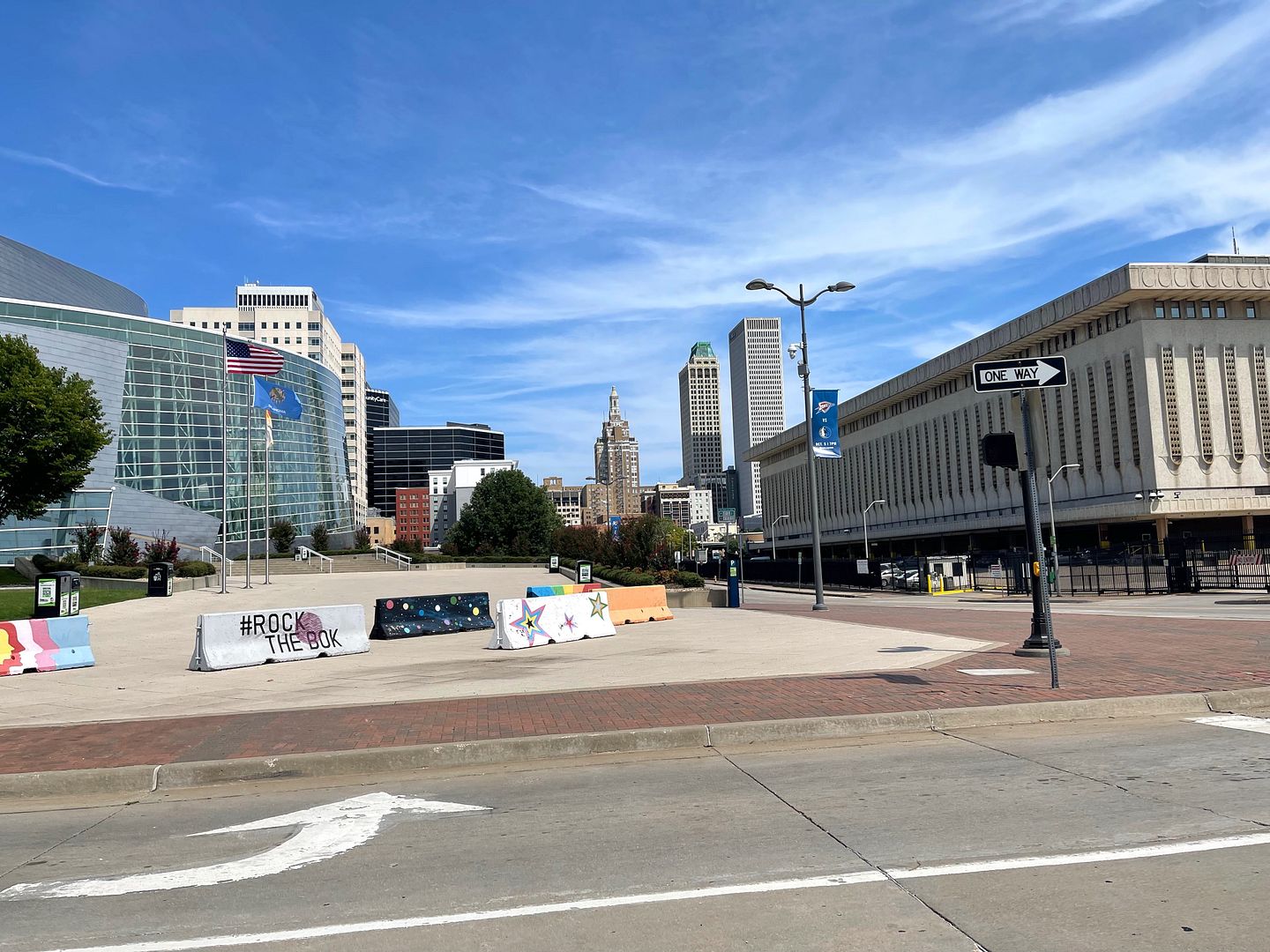 Downtown Tulsa is nice, with some interesting architecture. I picked up my daughter from the bus station, where she had come in from her college in Oklahoma City, so it was great to see her.
But, whoa… I tell you what, Tulsa BY FAR wins the award on this trip for crazy drivers. All sorts of shenanigans. Biggest thing was me going through an intersection, where the light had been green for some time and several cars had already gone ahead of me. A driver zoomed through from the cross direction right in front of me, completely oblivious that there was even a stoplight (or an intersection?) there at all.
Scary. Almost got T-boned and ended the trip, and maybe even our lives, wayyyy prematurely.
My daughter and I went out to Pryor, Oklahoma, northeast of Tulsa, to the Rocklahoma music festival.
Some huge music names there. We only were able to go Saturday, as road trip and her college demands didn't allow for more, sadly.
Good to see some returns to live concerts as we transition to "post-COVID" times.
First group I cared much about was Quiet Riot, a blast from the 80's. Fun.
I had never heard of groups "Nothing More" and "In This Moment", but both were pretty good. Some serious drumming from Nothing More.
Skillet was fun, having seen them before and having a couple of their albums.
I thought there was a song or two from Suicidal Tendencies I had liked from way back when, but… they were really not my thing.
And then…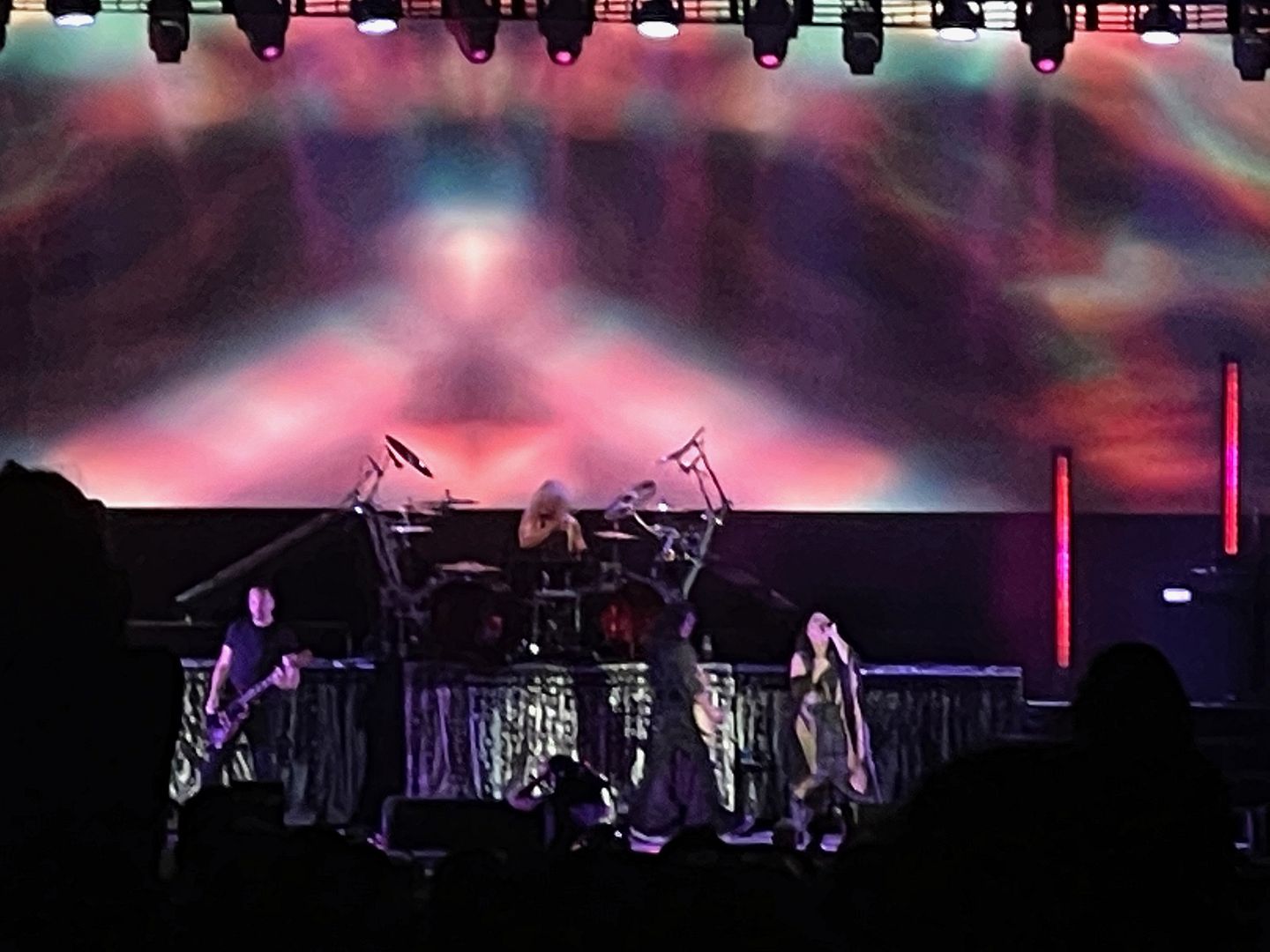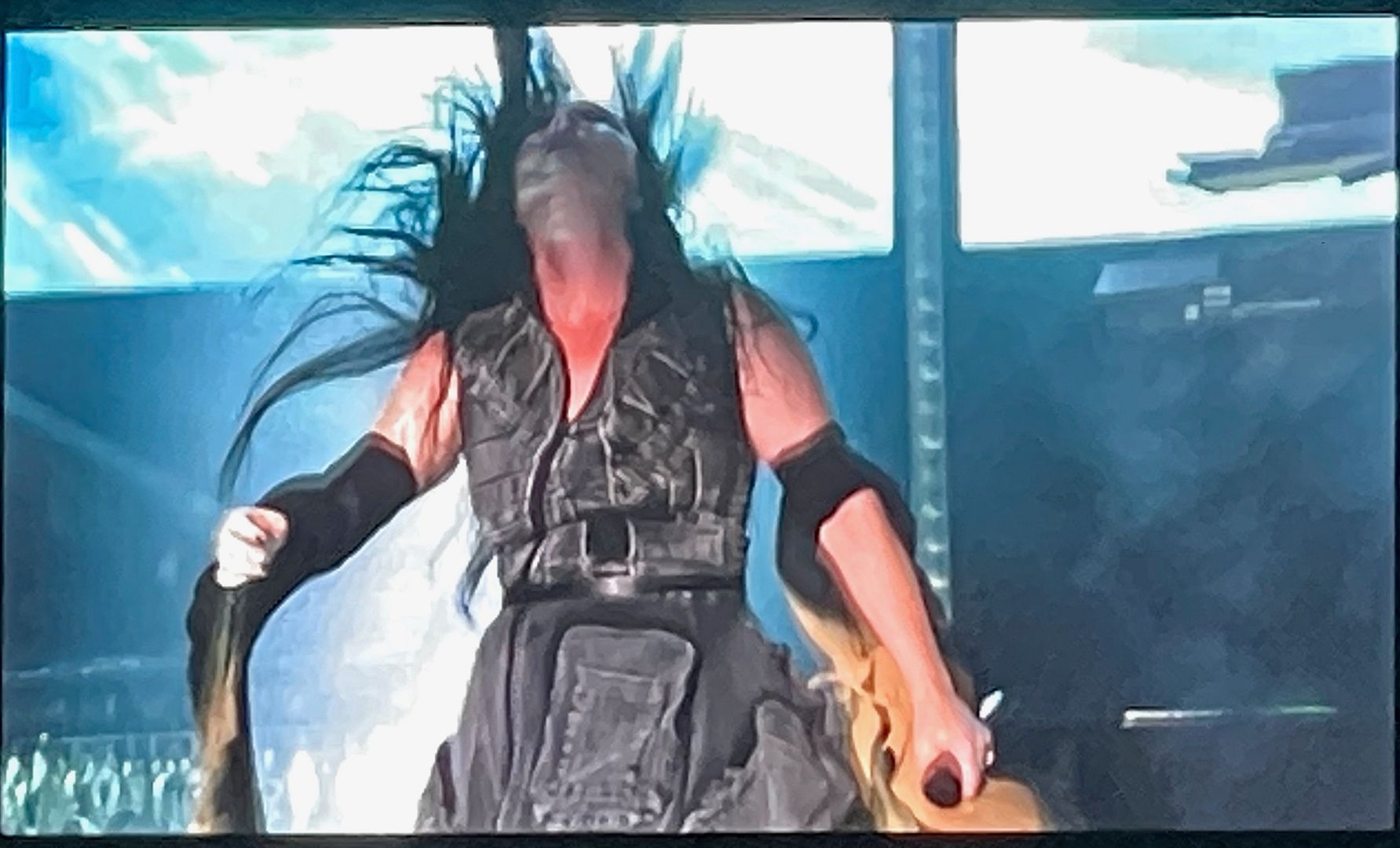 I was really there for Evanescence, and their lead singer, Amy Lee. Amy is my all-time favorite female vocalist. Absolutely, positively, stunning power voice.
I've bought everything Amy and/or Evanescence has recorded and put out. I used to say I'd buy a recording of Amy singing the alphabet, if she made one. Well, many years ago, she became a mom, and went through a mothering phase, even putting out a kids music CD.
Where I was literally… listening to her sing the alphabet.
She definitely returned to full power rock kick-ass form tonight. Voice as strong as ever. Hope these videos below turn out well. And sorry for the fat fingers, where I accidentally paused the recording in the middle of a couple of them and had to resume.
It's a shame recordings like these really don't capture the power of the performances.
Next up was Seether. Good, but not my favorite. HOWEVER, Seether sings "Broken", one of my favorite songs of all time. Amy Lee recorded a duet with Seether on the song, when she was dating Seether's lead singer.
They had a nasty break-up and haven't performed together since. As far as I know, this was the first time in the last 15 or whatever years they've even been at the same event together, so I was really, REALLY hoping after all this time, they'd have put the past behind them, and sing the song together.
But sadly, no. To be fair, "Broken" was a Seether song before Amy even came along, so he did it solo. Also in a little different style from the original, which IMHO wasn't as good. Still enjoyed hearing it though.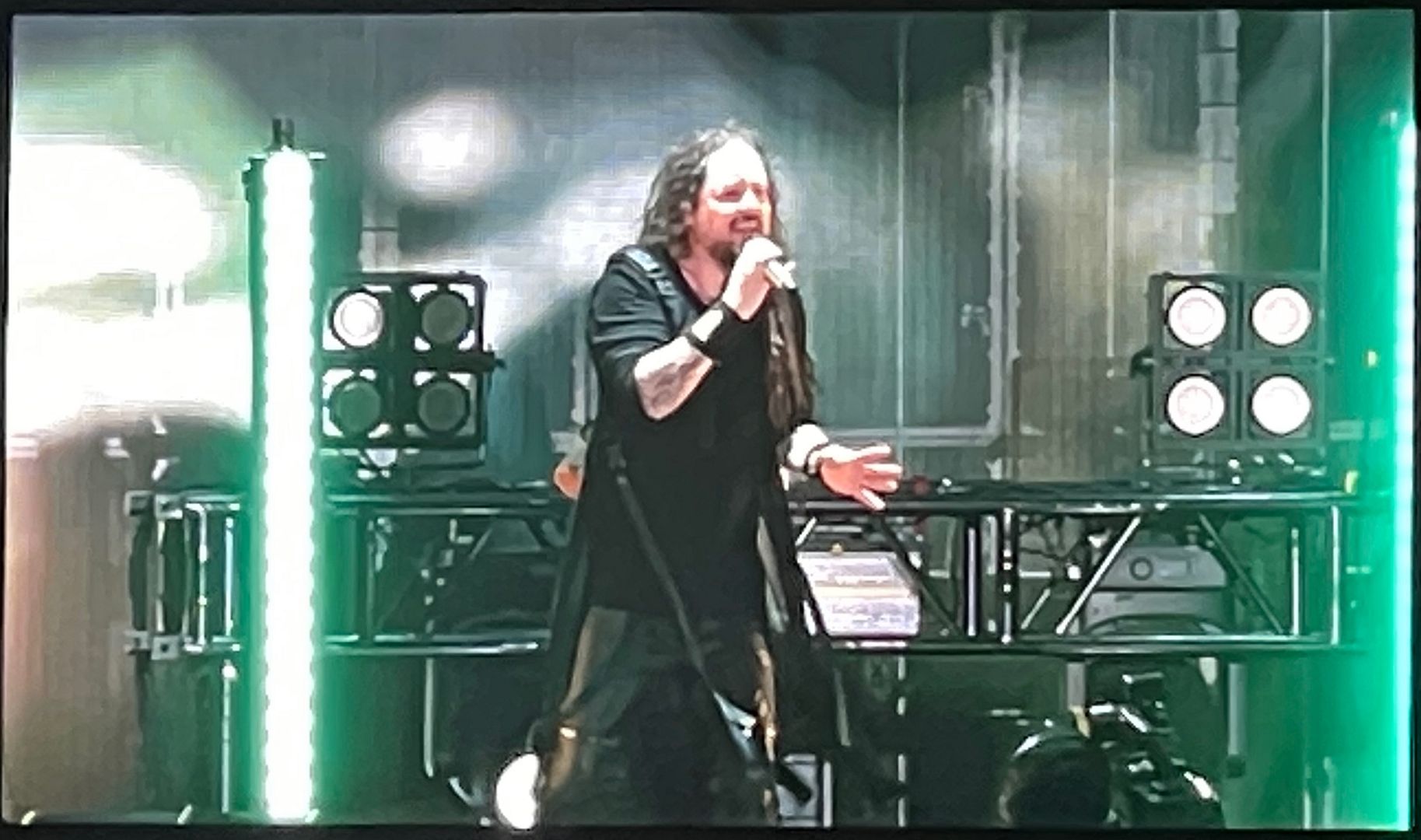 Last up was Korn, a legend in Nu-Metal throngs. I think they said they've been performing for 22 years now? Most impressive.
Some serious musical and performing skills. Their bass guitarist was particularly epic. Korn's music just isn't my jam, though. But I can appreciate the skills and fan appeal.
Stayed at the Hyatt Regency back in Tulsa that night. More crazy drivers… woof.
I'm a top tier member of Hyatt's loyalty club. That comes with some perks and occasional rewards that are great to use. One benefit is a personal "concierge" that helps me make reservations and works issues. Joanna is absolutely awesome to work with.
I also have a bazillion Hyatt points, so I'll be using those throughout the vast majority of the rest of my trip. Hyatt didn't have hotels at the locations I had stayed at to this point, so this is the first one this trip, and I should be at them for most of the rest of the way.
Being a Regency Hyatt property, it's nicer with more amenities than Hyatt's more general properties like a Hyatt Place. I got a nice upgrade to an Executive Suite, which is pretty much two large rooms put together with a pass-through door, and one of the rooms turned into a nice living area.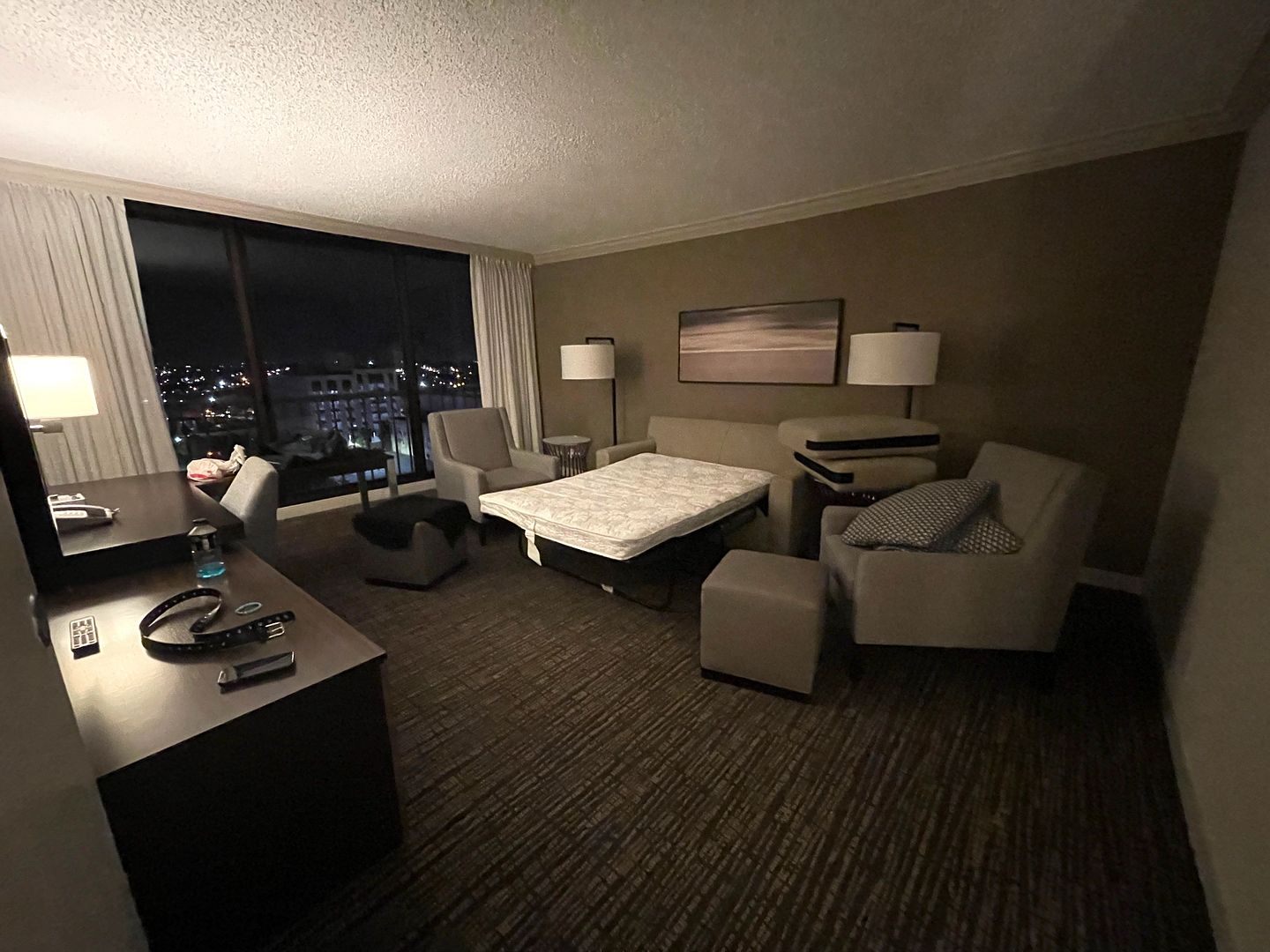 My daughter already pulled out the pull-out sofa bed before I could take a picture of her room.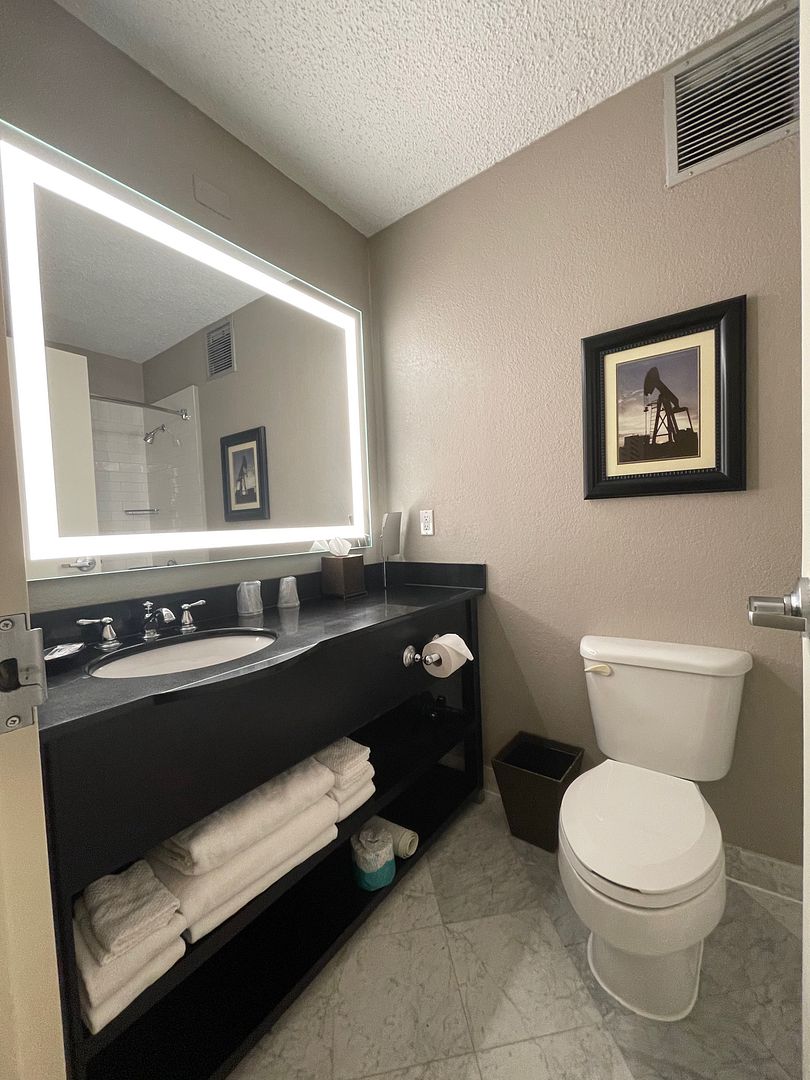 As pretty much two rooms connected together, each had its own identical bathroom with shower.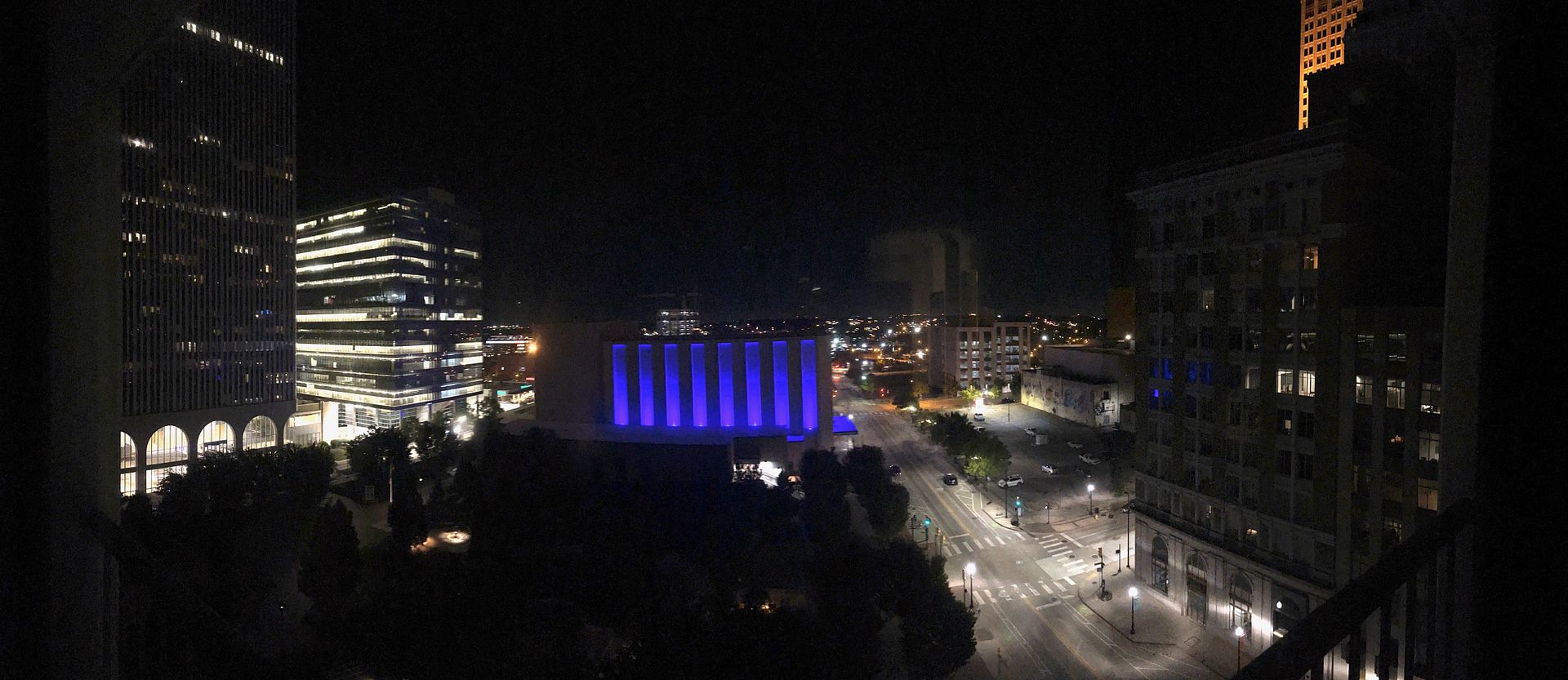 Lovely night-time view of the city from the room. After a day of driving and a long concert festival, I was pretty tired and crashed again.
The next morning was a little frustrating for breakfast. EVERYWHERE in America seems to be short-staffed as we enter this "post-COVID" world. The pandemic still is affecting every aspect of life, almost 3 years on now. Breakfast was good, just very, very slow.
A short 1.5 to 2 hour drive down to Oklahoma City, back to where my daugher's going to college. I took her and her boyfriend out to dinner, having gotten a recommendation for a local BBQ place, Clark Crew.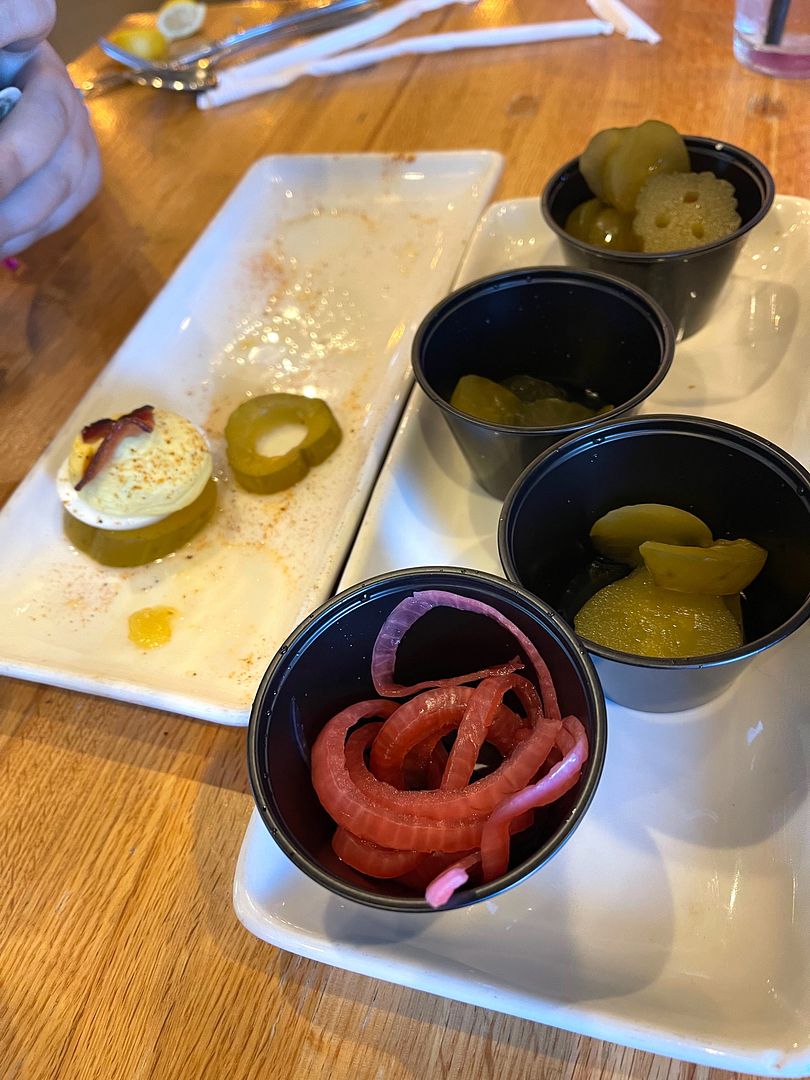 I really enjoy proper BBQ, so this will be an emphasis area of my trip. Clark Crew BBQ in Oklahoma City has been champion of many, many barbecue competitions. Let's see how they do. First up, yummy deviled eggs for appetizers, and they do their own pickles, in 3 levels of spice. Pretty good.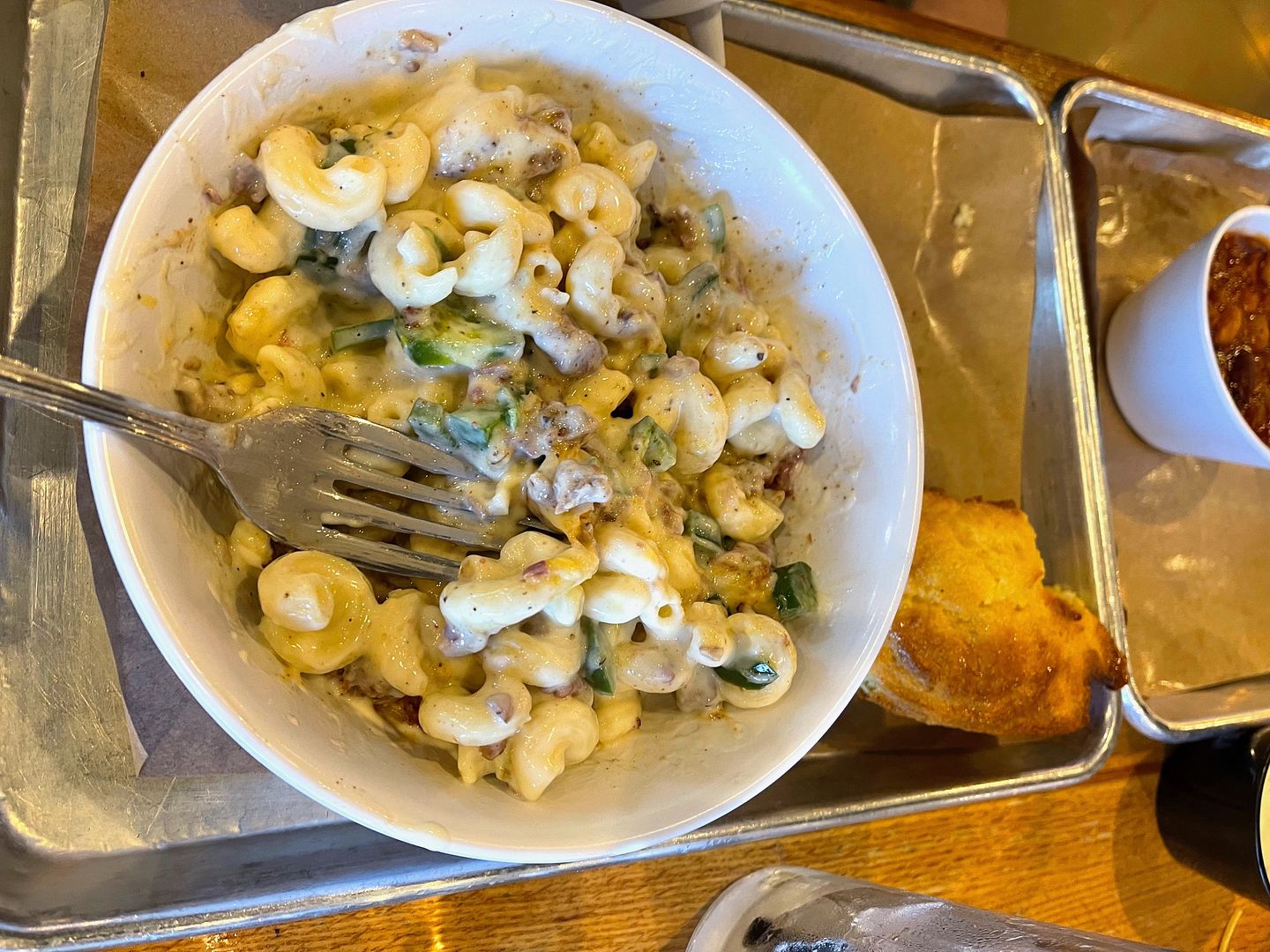 Daughter did brisket mac n cheese. Pretty good.
Her boyfriend did the barbecue sandwich.
I usually do some sort of meat tray like this at barbecue places, to try several of the establishment's offerings. Here, we've got brisket burnt ends, brisket slices, and ribs.
If nothing else, always provides for leftovers to take home for the next day.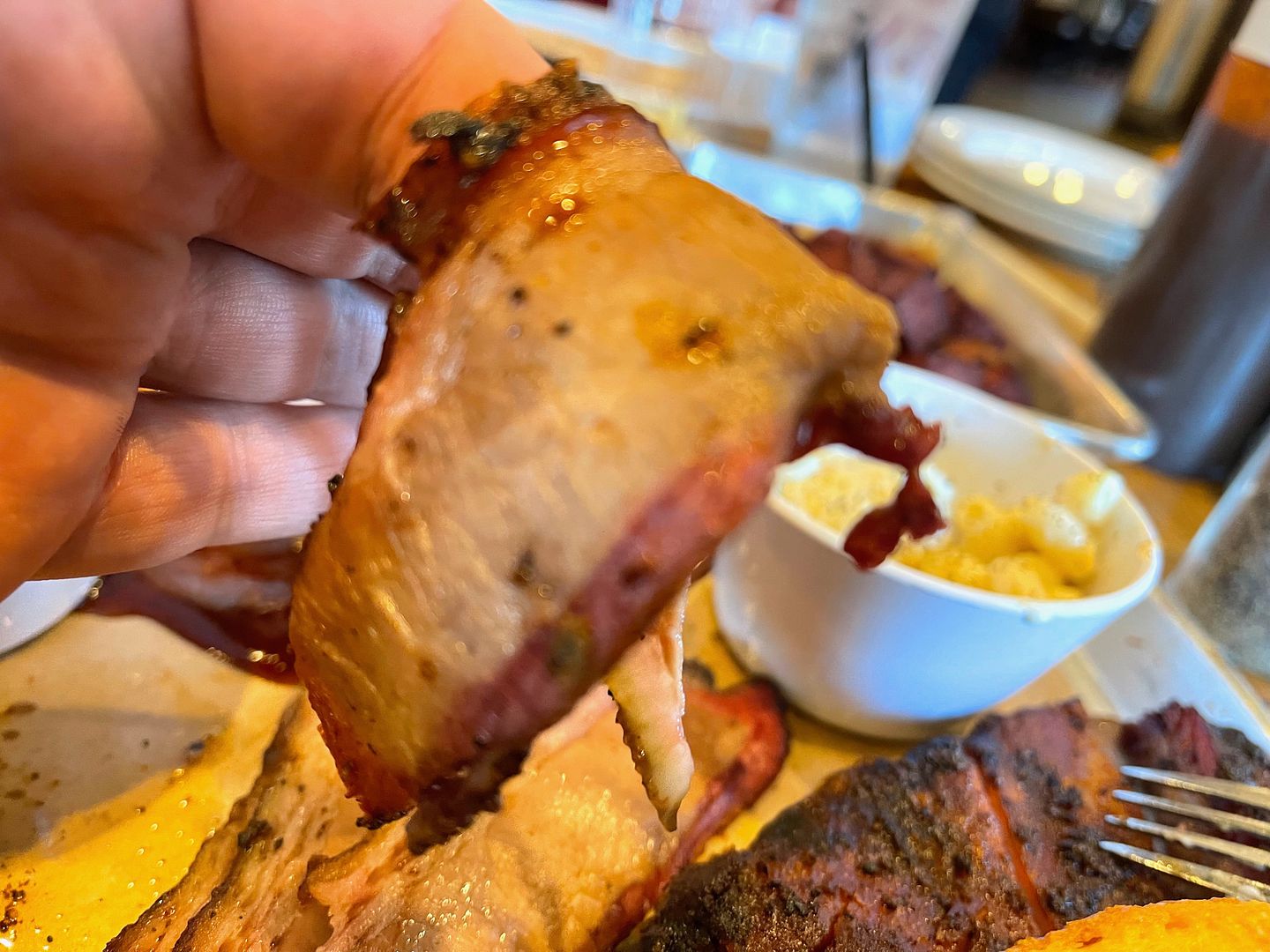 Sorry the focus is a little blurry on the brisket slice here, but you can get the gist. Sadly, this is a sign of the overall product. Really, really good BBQ competitors can turn out some amazing meats, when they're focused on making ONE brisket. One or two racks of ribs. Etc. You can put your whole attention into that one meat. When that competitor tries to scale up to run a restaurant, putting out HUNDREDS of briskets, every day, it's really, really hard to put the same level of love and attention into every piece.
Here, what you see is a nicely cooked slice of brisket, but it's not fully rendered. The connective tissue inside isn't fully breaking down, starting to come apart, so it's pretty much a full slice of meat.
Tastes good, good texture, but it's just not top-tier, like a BBQ competitor is able to put out at a smaller scale.
The brisket burnt ends were AMAZING though. Favorite of mine.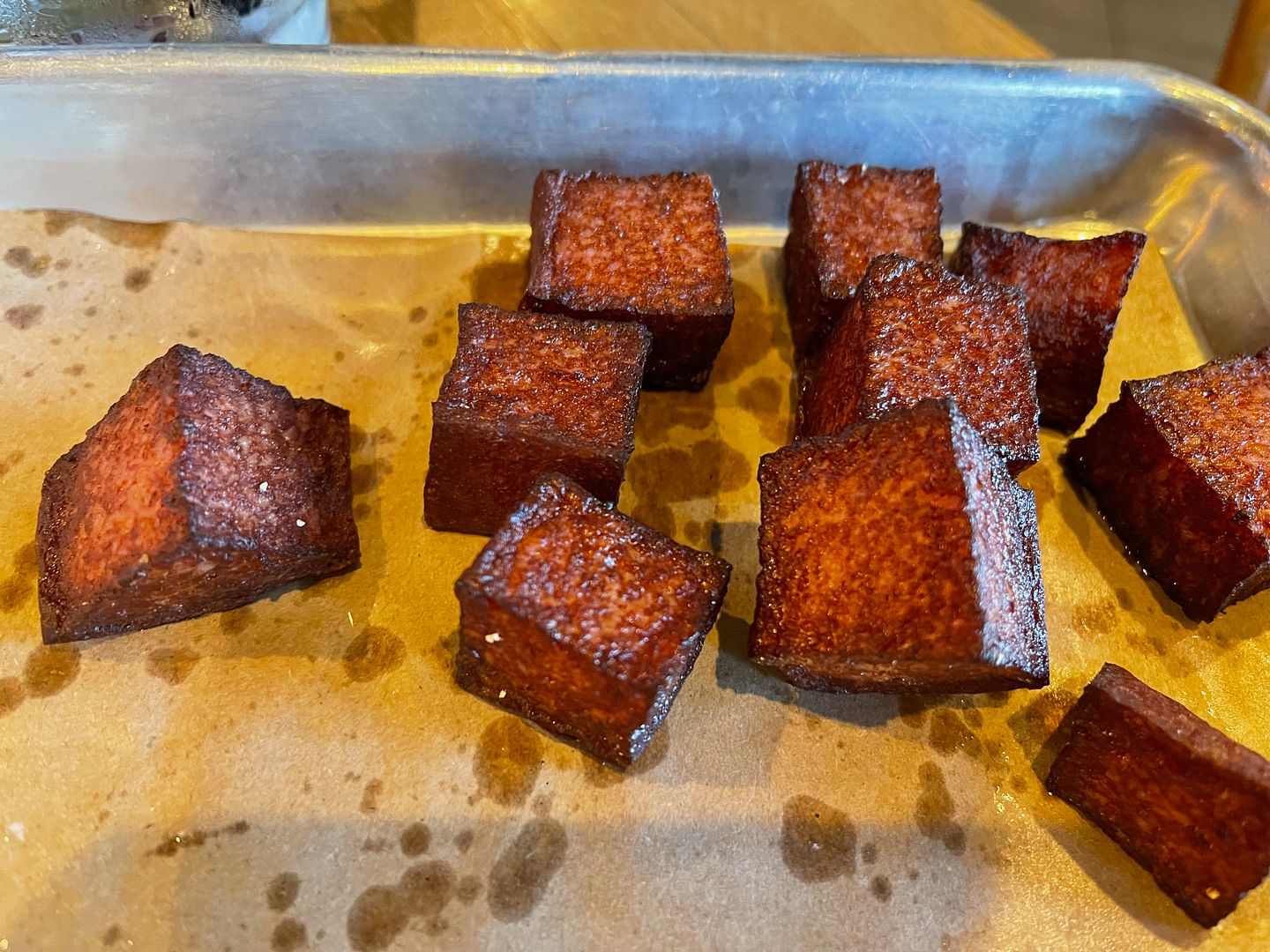 They also had bologna burnt ends on the menu, and had to try some out of curiosity. Not bad, but it's still bologna. Kind of like chicken, IMHO, where you can do some good stuff with it, but it can't reach the top tier of succulence like beef can, such as brisket.
We shared a pecan trifle for dessert. Very good.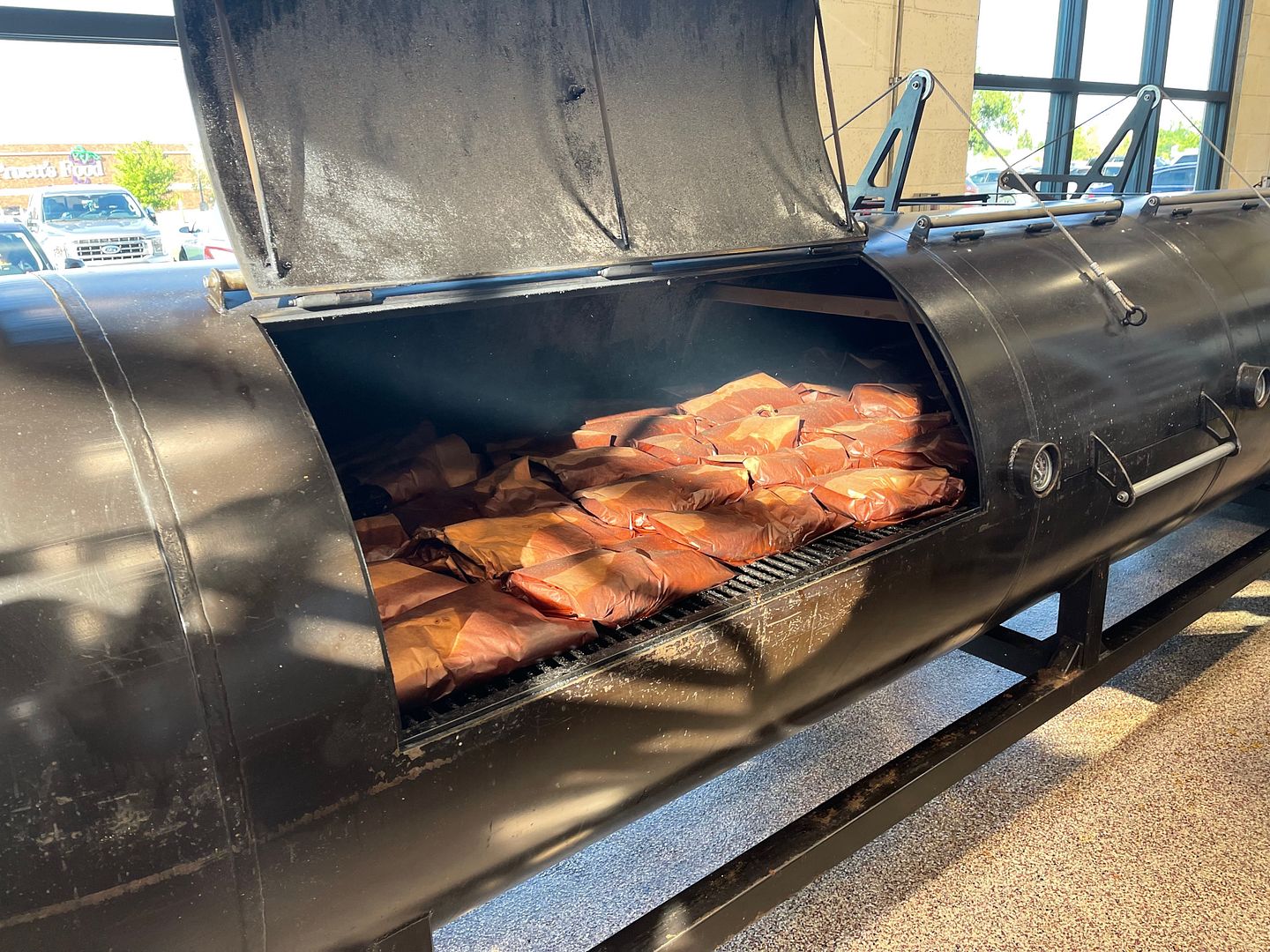 On my way out, the pitmaster caught me peeking in the windows, and invited me into the kitchen pits to see their craft. We bantered a bit about techniques, as I am always in pursuit of smoking the perfect brisket myself. Including a current method of brushing with beef tallow when wrapping in butcher paper. Much appreciated talking to him.
Then, I took my daughter and her boyfriend to a Weird Al Yankovic concert. I've enjoyed Al over the years, and ended up buying all his albums. Although not a die-hard fan, I find him quite funny, and he also has quite a bit of actual musical and lyrical skill.
This tour, he got away from doing his parodies, and focused on his original songs. While disappointing to some, I still enjoy his original stuff too. Ended up being a real enjoyable show. Opening act of Emo Philips, a comedian that also appeared in Al's movie "UHF".
I can't think of any better tribute to Al, than having snuck a recording of this song snippet.
Stayed at the Hyatt Place hotel near Oklahoma City's airport. Will be showing lots of Hyatt Places in this journal.
My daughter bought the Infiniti QX56 back from insurance as a salvage vehicle, so I left it there with her. It's now hers, so I've told her, she's responsible for everything and anything that happens with it from here on out.
Okay, pre-PCD trip complete! Next up, South Carolina and BMW Performance center, here we come!
---


Last edited by Wild Blue; Yesterday at

08:39 PM

..