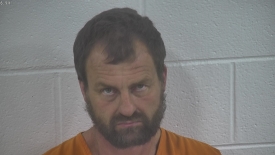 The Calloway County Sheriff's Department is asking for the public's help in locating a fugitive wanted in connection to a vehicle pursuit last month.
47-year-old Ronnie Sharp is wanted on charges of first-degree feeling police; three counts of first-degree wanton endangerment; and parole violation among others.
Sharp is 5-foot-10 and 145 pounds with brown hair and brown eyes.
Murray-Calloway County Crimestoppers is offering a reward for information leading to the arrest of Ronnie Sharp, who should be considered armed and dangerous. Anyone with information is asked to contact Murray-Calloway County Crimestoppers at 270-753-9500
3351039283
Mozilla/5.0 (Macintosh; Intel Mac OS X 10_14_6) AppleWebKit/537.36 (KHTML, like Gecko) Chrome/83.0.4103.116 Safari/537.36
68c17597f4d0af1d3bad31643bceee82c4a00b06
1