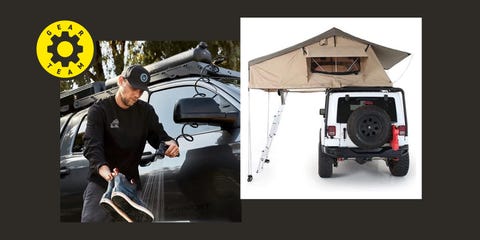 WaterPort, Amazon
Ah, overlanding. The art of going off the grid without walking under the hot sun for days on end—unless you're into that sort of thing, of course. But we at the Gear Team believe in doing things on four wheels, and getting away from it all our way can be smoother and safer—not to mention easier on your hiking-boot budget. So, first of all, what exactly is overlanding?
Turning your vehicle into an overlander is a process that includes adding accessories, equipment, and upgrades to improve off-road capability. In addition, overlanding gear can help you enjoy off-grid activities like camping or kayaking. With the summer months nearly upon us, and events like Overland Expo West going on, our off-road hankerings are in full swing.
So if you plan to turn your vehicle into a trail-blazing machine and leave the pavement behind, check out this awesome gear to fully kit out your ride. Adding a rooftop tent, safety supplies, or a kayak rack can make your adventure so much more enjoyable. You might even find yourself driving into the great wilderness more often. Sounds like a blast to us!
How to Make Overlanding with an EV Work
---
Advertisement – Continue Reading Below
Polyester construction will protect from rain and sunshine
Connects right to your vehicle via unique strap system
Protecting your base camp from the sun and rain is essential, and this overland shelter does the trick. With a unique attachment system that connects right to your vehicle, you'll be able to set up a nice shield from the elements.
2
Full-Size Short-Bed Truck Tent
Different sizes accommodate different truck-bed lengths
Sky Vent lets you stargaze
Floorless design, might want a tarp underneath
Who needs an RV when you have a truck bed? This truck-bed tent makes snoozing under the stars easy. There are different options depending on the size of your truck's bed, so do some measuring before you buy. Oh, and don't forget an air mattress.
3
Overlander XL Rooftop Tent
Can sleep three to four people
Telescoping ladder
Quite large when folded down
If truck-bed tents aren't your cup of tea, this rooftop tent is a great solution. It's heavy-duty, waterproof, and comes with a telescoping aluminum ladder. Inside, Smittybilt claims there's enough room to sleep three to four people.
4
Kayak/Surf/Ski Roof Carrier Rack
Can hold kayaks, skis, and surfboards
Foldable
Requires existing roof racks
If you plan on bringing kayaks, skis, or a surfboard, you gotta have a set of carriers to bring them along safely. These universal J-style mounts clamp onto roof racks (sold separately) and are versatile enough to hold just about anything you bring.
5
Waterproof Synthetic-Rope Winch
Waterproof
10,000-pound weight capacity
Might be overkill for your vehicle
A winch is a must-have when overlanding, as you never know what kind of terrain you'll run into. While that's all part of the fun, getting stuck isn't. This synthetic-rope winch has a load capacity of 10,000 pounds and features a 6.6-hp amphibious motor.
6
Nylon Recovery Kit with Hitch Receiver
Claimed rating of a 35,000-pound breaking point
Comes with d-rings and hitch receiver
Requires a second vehicle
If you're overlanding with a buddy, a nylon recovery kit is a nice budget option to get unstuck. These straps are rated at a 35,000-pound breaking point, and they come with two d-rings and a hitch receiver.
7
Vehicle Cellphone Signal Booster
74 percent range increase over the previous model
Works will all major phone carriers
Requires a signal to boost
Sometimes, losing your phone signal is the whole point of overlanding. But if you do need to be available, try a signal booster for your vehicle. It works will all major phone service carriers and claims a 74 percent range increase over the previous model.
8
Apollo Pro 6-Inch 100w Driving Light System
100-watt halogen bulbs are plenty bright
Includes wiring harness
Installation can be tricky depending on your vehicle
Nighttime overlanding can be a blast, but make sure you can see where you're going. This light kit from KC features a wiring harness, hardware, and two 100-watt halogen bulbs that produce serious light in a compact housing.
9
Universal Air Compressor
5.65-CFM motor
12-volt power
Storage bag has quality issues
After driving over rough terrain, getting your tire pressure back to ideal is a high priority. Just throw the power and ground clamps on your vehicle's battery terminals, and this 5.65-CFM compressor can pump out up to 72 liters per minute.
10
48-Inch Heavy-Duty Jack
Built with heavy-duty materials
48-inch jacking height
Wider base sold separately
Whether you're stuck or need to swap out a tire, this heavy-duty jack will come to the rescue. Equipped with a shear pin, it'll lift up to 7000 pounds before failure.
11
MicroMobile 15W Two-Way Radio
50-mile max range
NOAA weather scan plus alerts
5-to-10-mile obstructed range
You'll want to have a line of communication open at all times during overlanding, and this two-way radio does the trick. Boasting a 50-mile max range and a NOAA weather-scan-plus-alert feature, it will keep you updated on any upcoming severe conditions.
12
Personal Locator Beacon
Doesn't require a subscription
Difficult to accidentally activate
Requires battery checks often
If you're going places Find My iPhone won't reach, get yourself a GPS personal-locator beacon. This one doesn't require a subscription, but you do need to register it.
Adds extra grip
Different colors to choose from
A set of traction tracks is always a good idea to have, and these from X-Bull can provide that extra bit of grip you might need. If blue isn't your style, there are a multitude of colors to choose from.
14
Eight-Gallon Water Tank
Eight-gallon capacity
High-pressure spray valve
Water is super important wherever you go, and this eight-gallon overlanding tank is a perfect option. It comes with mounts for your roof racks and features a high-pressure spray valve for spraying off dirty hiking boots or taking a quick shower.
15
5.28-Gallon Gasoline Container
5.28-gallon capacity
Versatile storage options
Shake out extra plastic shavings before filling
Carrying extra fuel is another overlanding essential, and this container holds 5.28 gallons. The compact size means it'll fit in handy places, and WinTools says the anti-corrosion design will not leak.
16
54-Quart Portable Freezer
Minus-4 Fahrenheit freezing function
54-quart capacity
One temperature for the entire unit
We all love a cold beverage out in the boonies, so pick up one of these portable refrigerators that can be powered right from your 12-volt outlet. The 54-quart capacity is nice and large and can hold drinks, food, and other supplies. The freezer function will also cool all the way down to minus-4 F.
17
Garage Fire Extinguisher
B:C rated for electrical fires and flammable liquids
Mount included
Keeping a fire extinguisher on hand can be a lifesaver, and this one from First Alert is rated as 10 B:C, meaning it'll put out both electrical fires and flammable liquids. Hopefully you'll never have to use it, but it's a must-have just in case.
This content is created and maintained by a third party, and imported onto this page to help users provide their email addresses. You may be able to find more information about this and similar content at piano.io
Advertisement – Continue Reading Below