On the cusp of the launch of its R1S all-electric SUV, automotive startup Rivian is trying to take full advantage of its momentum to ramp up production.
The upstart was incorporated in 2011, and has gained fame by becoming the first company to release an electric truck late last year, beating Tesla, Ford and GM to the punch. It also got an infusion of cash in 2019 when retail giant Amazon came calling with an order for 100,000 for EV delivery vehicles.
Since 2019, Ford has invested $1.2 billion in Rivian. Cox Automotive invested $350 million in 2019.
Rivian has been working to meet the flurry of interest and demand that it has generated since it started to take reservations for the R1T pickup in 2019.
The end of the first quarter of 2022 coincided with a ramp-up in production. Rivian is currently concentrating on batch deliveries, meaning that the quarter ended with a lot of produced vehicles that hadn't been delivered yet. In Q1, the automaker produced 2,553 vehicles and delivered about half of those.
By the end of the year, Rivian projects that it will have produced 25,000 vehicles.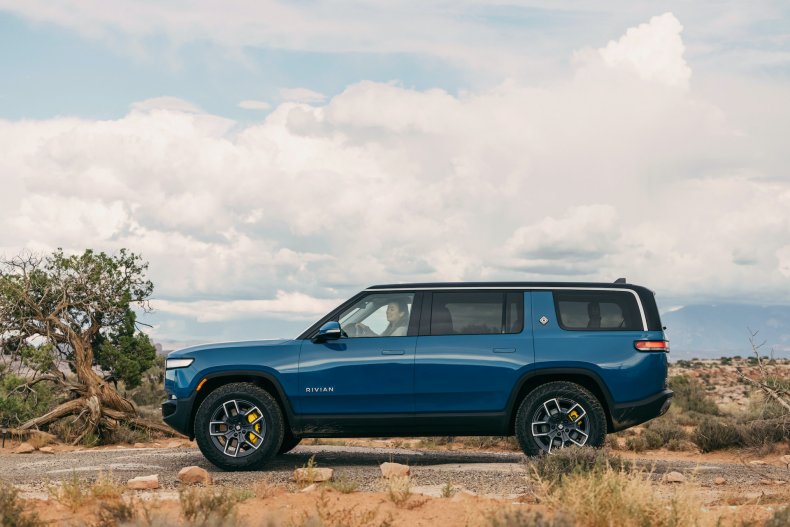 During a recent factory tour at its sprawling 3.3 million square foot facility in Normal, Illinois, CEO RJ Scaringe told Newsweek that Rivian isn't just another startup.
"Today, to truly develop a product that has quality, durability and robustness, it takes billions of dollars. If other automakers don't think that, then they don't yet understand the scale of the challenge," he said. "You cannot start a car company for a few $100 million, at least not a scale car company."
For now, Rivian has those billions. After going public on the NASDAQ in 2021, the company currently has a market capitalization of about $36 billion. In its end-of-year filing with the Securities and Exchange Commission, it reported $18 billion in cash on hand.
Rivian production has benefitted from the failures of another automaker. Its sprawling Illinois plant was purchased from Mitsubishi for $16 million in 2017. The factory came with six stamping machines and other equipment, saving Rivian hundreds of millions of dollars, according to the company.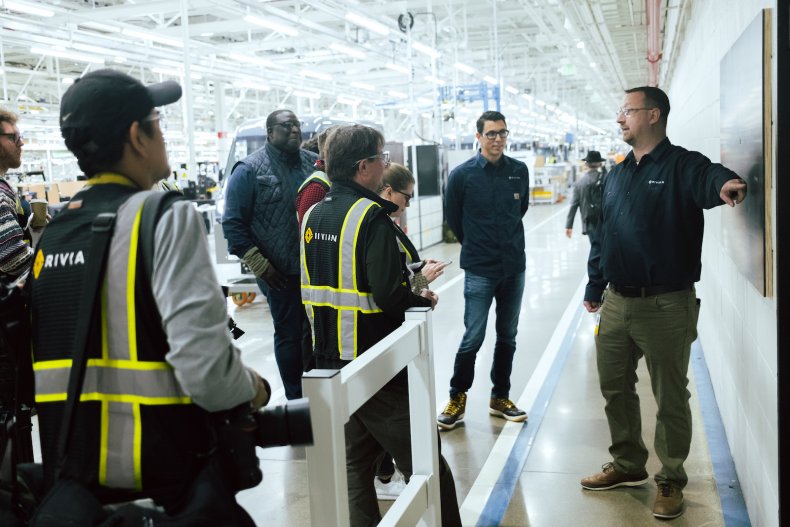 Scaringe says that the hardest part of his job right now is balancing short-term and long-term objectives. A lot of his day-to-day work is trying to secure the components necessary to build R1 products while his best engineers are working on R2.
R2 is the company's future, smaller platform. Rivian expects vehicles using that architecture to have lower price points in order to reach a broader range of customers. A timeline for its market launch has not been publicly revealed.
"We have a lot of customers that love the brand and what we're doing, but say 'I'd like something that was a little less expensive,'" he explained. "That's where R2 comes in. It's going to be something that makes the brand and the company address a more broad market of customers in terms of price point."
The base R1T starts at $67,500. An R1S has a starting point of $72,500.
That customer interest continues to build. Despite announcing an across-the-board price hike last month that unsettled some reservation holders, the trendline for demand keeps moving higher.
"Demand is accumulating faster than we can produce vehicles," he said.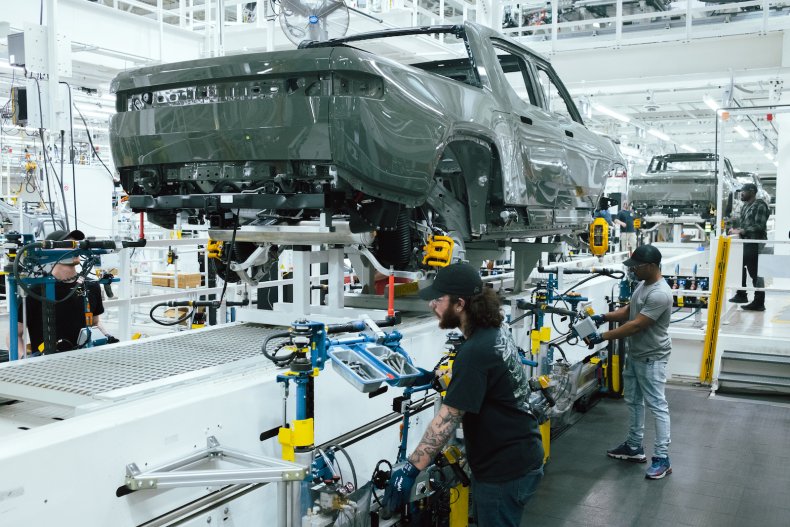 The company says that its factory is producing hundreds of customer vehicles a week, with separate lines and numbers for the electric delivery vans being produced for Amazon.
The semiconductor chip shortage that's affecting every part of the auto industry is currently limiting the amount of vehicles the company can make, so it's prioritizing some product lines over others.
Getting chips as a new player in the auto space can be difficult, Scaringe explained, as semiconductor suppliers tend to allocate based on historical performance.
"We have the challenge of not having previous history to look towards," he added. "This month, by definition, should be a lot more (vehicles) than last month and next month should be a lot more than this month. So we're just right at the perfectly challenging part of the steep ramp."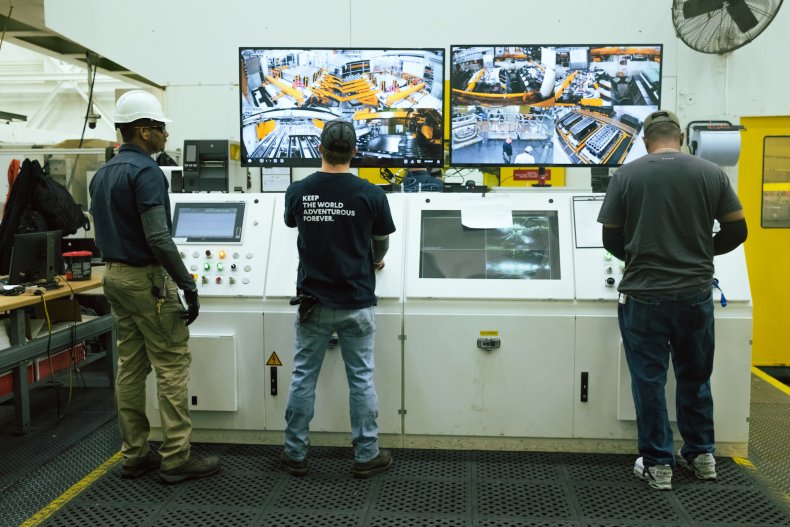 Primarily, its factory is concentrated on making the Adventure trim, the higher-priced variant with the quad-motor powertrain. Those who opt for the recently announced dual-motor version will have to wait until 2024 before their deliveries begin.
Executives say that they're ready to release the R1S this year, which they say will ride very similarly to the R1T and feature the same selection of powertrains. The main difference is that it will haul more people with three rows of seats.
Scaringe says that as he looks to the future of the automotive industry, he sees the field of startups in the space shrinking.
"It's very unlikely that the value chain that we know today will look like the way it does today in 15 years," he argued. "The scale and size and topology of different players across the space is going to change. Some OEMs will grow, shrink or disappear."