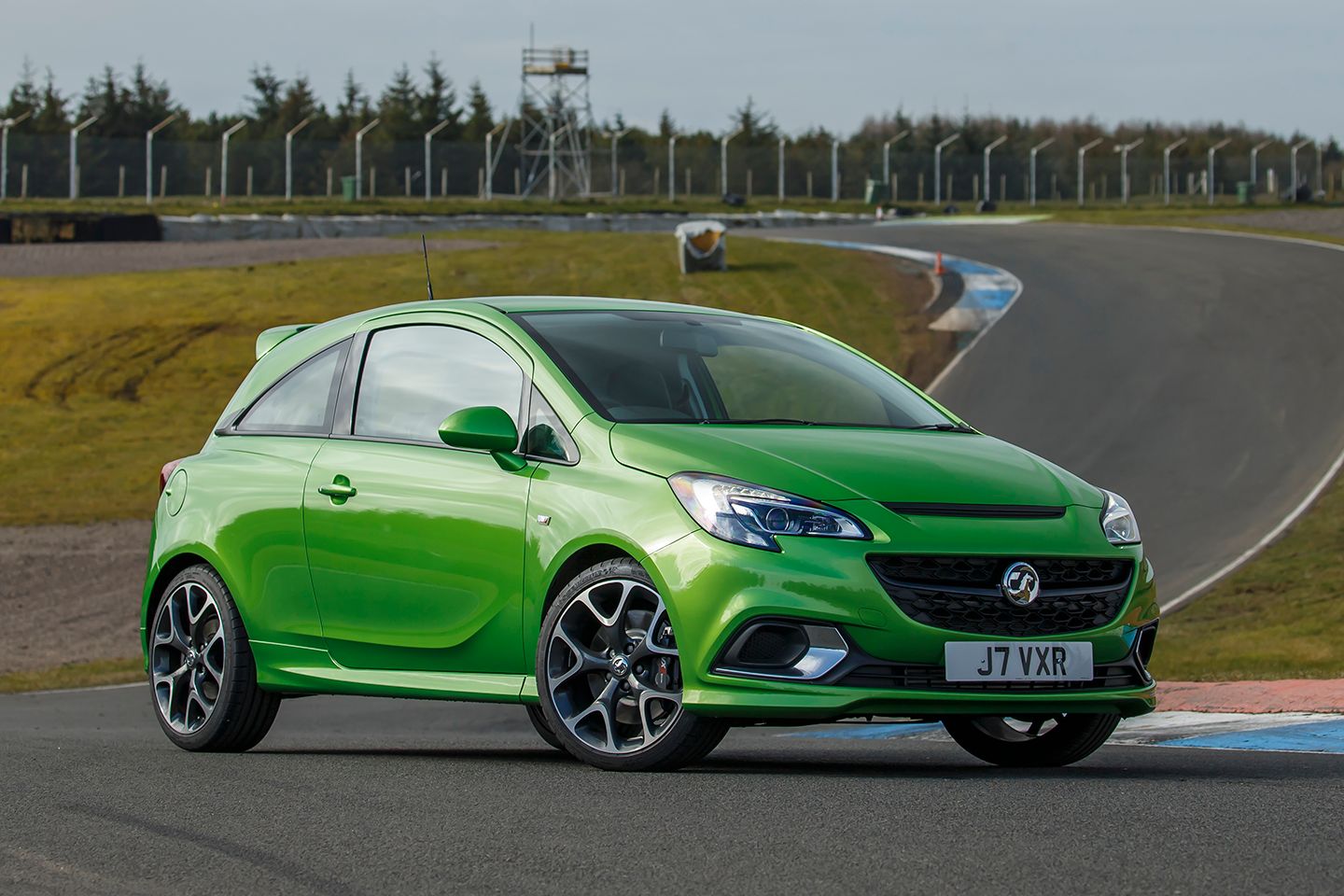 Key considerations
Available for £7,000
1.6 litre turbo four-cyl, front-wheel drive
Fatter torque curve than before, 0-62 in the high sixes
Good cabin comfort if you're in the front
Drivetrain problems of the previous model over?
Maybe, but mind how you go with tuned examples
Who remembers the Vauxhall Nova GTE? Remembering them is pretty much your only option these days because you won't see many on the street. Nostalgia has pumped the prices off the chart. Even rusty and/or mauled-about ones rarely go for under £6,000. If there are any original, straight ones left, multiply that price by two at least. In fact, name your price, because there are fewer than forty left in the UK and none of them are for sale.
The Nova GTE wasn't expensive when it came out in 1988. Vauxhall's whole point was to make hot hatch performance available in a small, affordable package. In the Nova's case that goal was achieved by sticking a 100hp 1.6 engine into a car weighing under 850kg. Imagine the fun.
Shortly after the Corsa arrived in 1993, the Nova GTE went away. And so, for quite a long time, did the fun. It wasn't until 2007 that Vauxhall responded to the desperate cries of its thrill-starved followers by launching the first Corsa VXR, based on the fourth-generation 'D' Corsa. It had the same sized engine as the Nova GTE, but turbocharging it nearly doubled the power to 192hp. Even with a lot more weight to carry than the Nova the VXR knocked on the door of a six-second 0-62mph time and ran on to 140mph. It was badly hobbled by poor steering, traction and gearshifting, but that car and the subsequent slippy-diffed 205hp Nürburgring and Clubsport Editions did at least suggest that Vauxhall wasn't going to abandon the GTE spirit.
The launch in 2015 of the gen-two Corsa VXR (based on the Corsa E) confirmed that indication, but did it address the shortcomings of the gen-one? We'll get into that and more in this buyer's guide.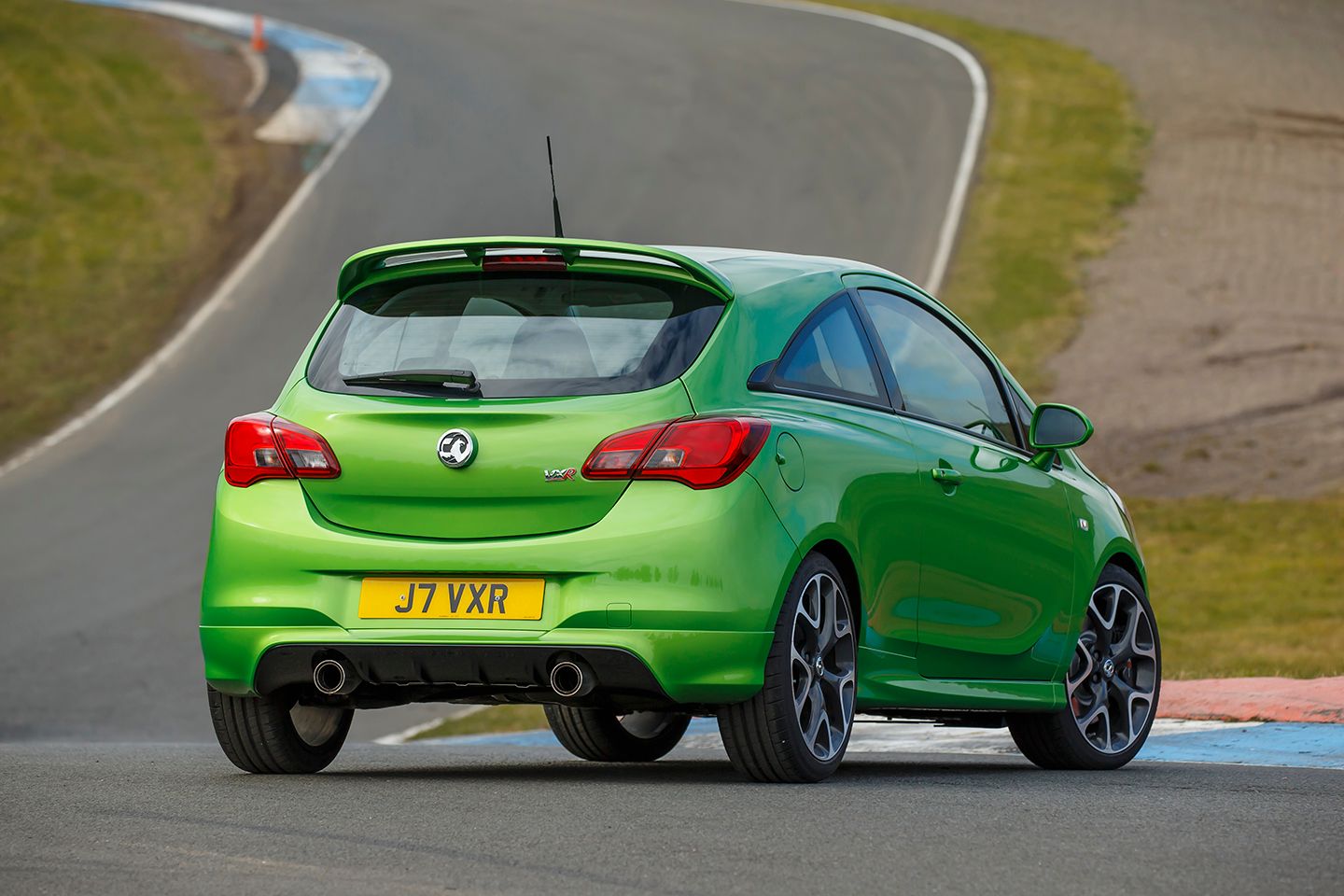 In at least one key area – affordability – the 2015 VXR was ahead of its predecessor. By the time the gen-one was being phased out, Clubsports were costing around £22k, somewhat dimming the appeal for first-time or conquest buyers. It looked like Vauxhall was reining that in with the gen-two by announcing a starting price of £17,995, placing it below rivals like the Polo GTI, Renaultsport Clio and the brilliant Fiesta ST. As it turned out the actual starting price was just under £18,200, and then £18,895, still marginally cheaper (and more powerful) than the base version of the Fiesta ST. Cynics talked about smoke and mirrors because of the strong temptation to take the gen-two's sticker price straight back over the £20k mark by specifying the £2,400 Performance Pack. This pack included a Drexler limited slip diff, bigger (330mm, up from 305mm) four-piston Brembo brakes, firmer suspension, 18-inch alloys with Michelin Pilot Super Sport tyres and a five-second overboost function adding a handy 26lb ft to the maximum torque figure between 1,900 and 5,800rpm.
That Performance Pack (effectively, all the gear from the Corsa D 'Ring Edition) made a big difference to the Corsa's behaviour on smooth tracks, but even without it the new Corsa E VXR was still mechanically ahead of the old one, despite having the same 1.6 turbo engine and six-speed manual gearbox as before and the same 205hp output as those last special editions. Vauxhall had made some useful mods to achieve that new power number. The intake, exhaust and injection systems, ECU, clutch, flywheel, intercooler were all either new or revised. The trans received a reworked linkage and new selector forks to get around the mis-shifts for which the Corsa D had become known.
Perhaps the most welcome modifications were to the suspension. In terms of its constant activity and feedback the old D VXR didn't hold much back, but not all of what it gave you was desirable. Vauxhall's aim with the E was to improve composure and traction to give the driver some spare mental capacity when battering along a broken B-road, and incidentally to make the car more family-friendly for a modern one-car household.
We'll get into a little more detail as we go along but overall let's simply say that, all in all, the gen-two VXR was a good step forward. It provided all the in-yer-face fun that Vauxhall enthusiasts wanted, underpinned by a new-found fluency and relative refinement that diehard VXR enthusiasts might not have realised could also be part of the deal.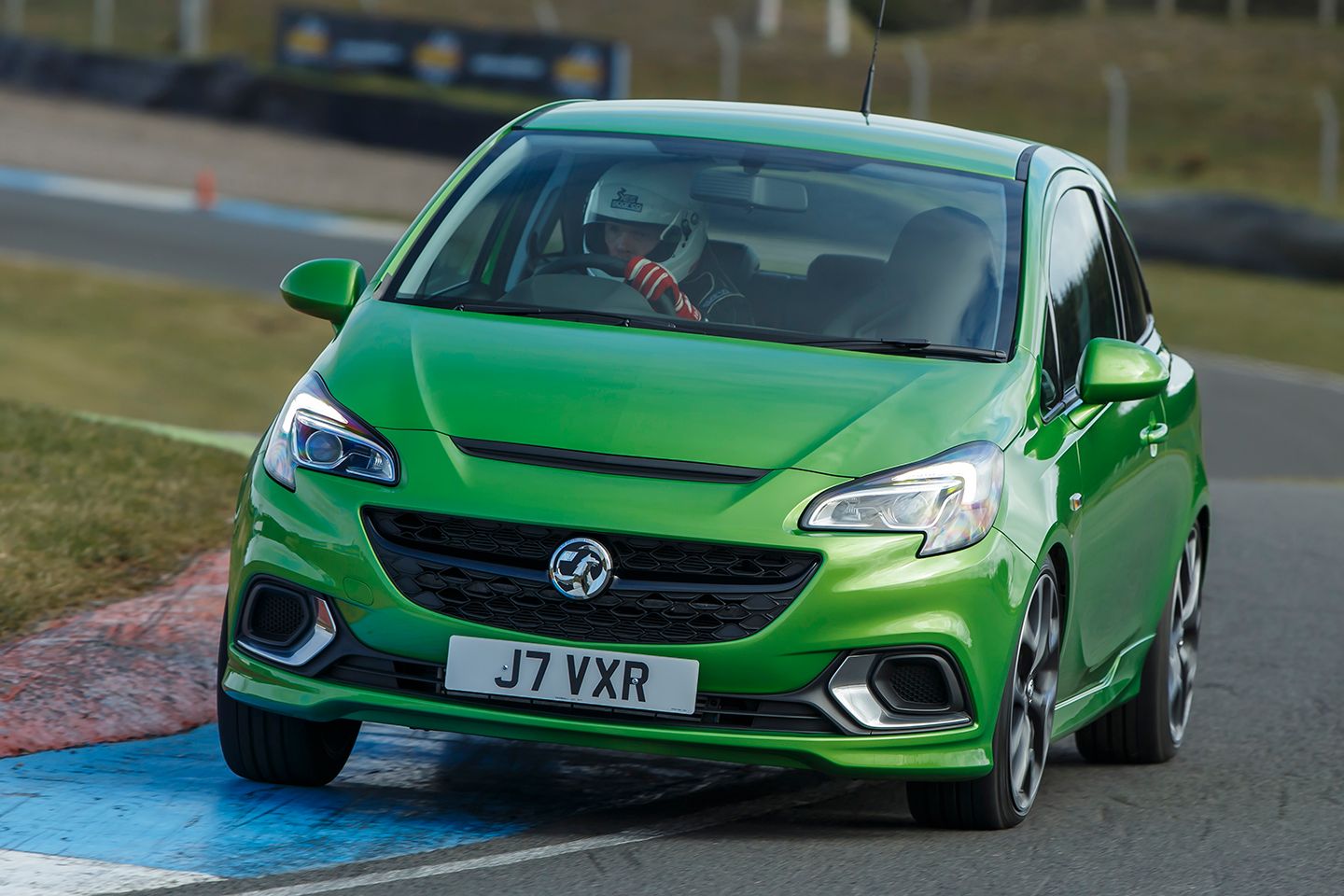 The last gen-two Corsa E VXRs were registered in 2018, the year when the entire VXR performance sub-brand was laid off following Vauxhall's takeover by PSA the previous year. At the time Vauxhall was keen to state that VXR was dormant rather than dead. In early 2021 Vauxhall said that the badge was returning to UK showrooms this year (2022) but as a pure electric car featuring a 134hp electric motor and a 50kWh battery pack from the Corsa-e. None of that sounded much like the rowdy VXR stereotype of yore. The VXR-ness was apparently going to be added via suspension, braking and steering upgrades.
Well. Be that as it may, while we're on the subject of rowdy stereotypes, you'll find a fair few crashed gen-two VXR Corsas on the used market. We've seen Cat S repaired cars up for as little as £6,000, but the normal entry price for undamaged specimens is going to be £8,000. That sort of money will just about get you into a 2015 car with 70-80,000 miles on it.
You'll also find ads for cars with rebuilt engines. Again, more on that in the Engine & Gearbox section, but if you're prepared to take a punt this is another chance to get yourself a cheap VXR. At the end of this story you'll find a PH Classifieds link to one of these. The price? £6,995. That doesn't sound so much for a genuinely hardcore supermini that will embarrass flashier and more expensive tackle at a track day near you.
What's the catch, apart from daily aggression from other road users? Let's have a look.
SPECIFICATION | VAUXHALL CORSA VXR (2015-18)
Engine: 1,598cc four-cyl turbo
Transmission: 6-speed manual, front-wheel drive
Power (hp): 205@5,800rpm
Torque (lb ft): 207@1,900-5,800rpm (five second overboost)
0-62mph (secs): 6.8
Top speed (mph): 143
Weight (kg): 1,293
MPG (official combined): 37.7
CO2 (g/km): 174
Wheels (in): 17
Tyres: 215/45
On sale: 2015 – 2021
Price new: £19,245
Price now: from £7,000
Note for reference: car weight and power data are hard to pin down with absolute certainty
. For consistency, we use the same source for all our guides. We hope the data we use is right more often than it's wrong. Our advice is to treat it as relative rather than definitive.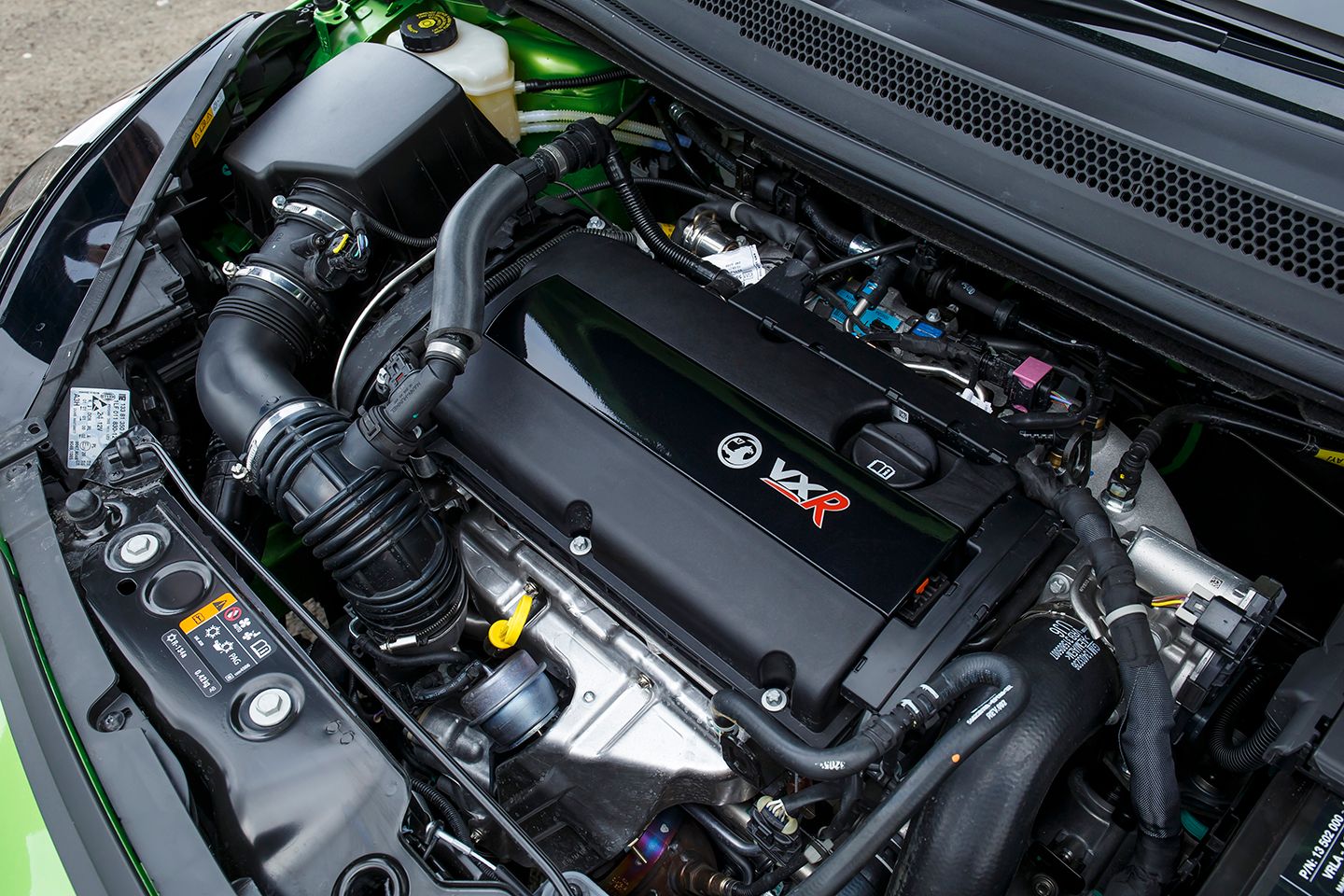 ENGINE & GEARBOX
Bragging rights are important for fans of hot superminis, and the VXR provided all the ammunition you needed with more horsepower than the Fiesta ST or the Polo GTI. Away from the spec sheets there was more good news. The throttle response was almost comically eager, and you could clearly feel the extra depth of the gen-two E's torque curve relative to the gen-one D, even though that new torque map also kind of showed up the shortage of high-rev fizz.
Whatever your view on that, or on the twin-exit Remus exhaust that wasn't really able to lift the disappointingly anodyne engine noise that far above anonymity, the new mid-range beef combined well with better cabin refinement and improved traction to make the gen-two a much more amenable everyday vehicle than its more narrowly focused forerunner.
It all seemed to work on the performance numbers too, with only Peugeot's 208 GTI 30th Anniversary being able to match it on the official 0-62mph and top end stats. Having said that, at least one magazine wasn't able to get within 0.4sec of the VXR's claimed 0-62 time of 6.8sec, having earlier hit a mid-six second time in the Peugeot. The main issue for the Vauxhall was, as before, slightly scrappy off the line traction. That and a set of gearbox ratios which demanded a change-up to third to reach 60mph, let alone 62mph.
In its defence the action of the reworked gearbox was a welcome advance, even if the Fiesta ST's box was still superior. Bearing in mind the type of use these cars typically face you shouldn't expect the clutch to last forever, and because there's a dual mass flywheel in there too don't expect the fix to be all that cheap either.
The official combined fuel consumption was nearly 38mpg but if you were driving even vaguely in the style encouraged by the VXR badge you were more likely to be seeing figures in the high 20s or even low 20s if you were gassing it hard everywhere – hardly cutting-edge economy for a car of that size launched within the last ten years. The letdown there of course was the continuation of the same basic drivetrain as that of the Corsa D VXR which had been around since 2007. Even a Golf R had lower CO2 emissions. Talking of fuel, a recall towards the end of 2020 addressed incorrectly fastened high-pressure fuel pumps on Corsas built between March 2019 and February 2020.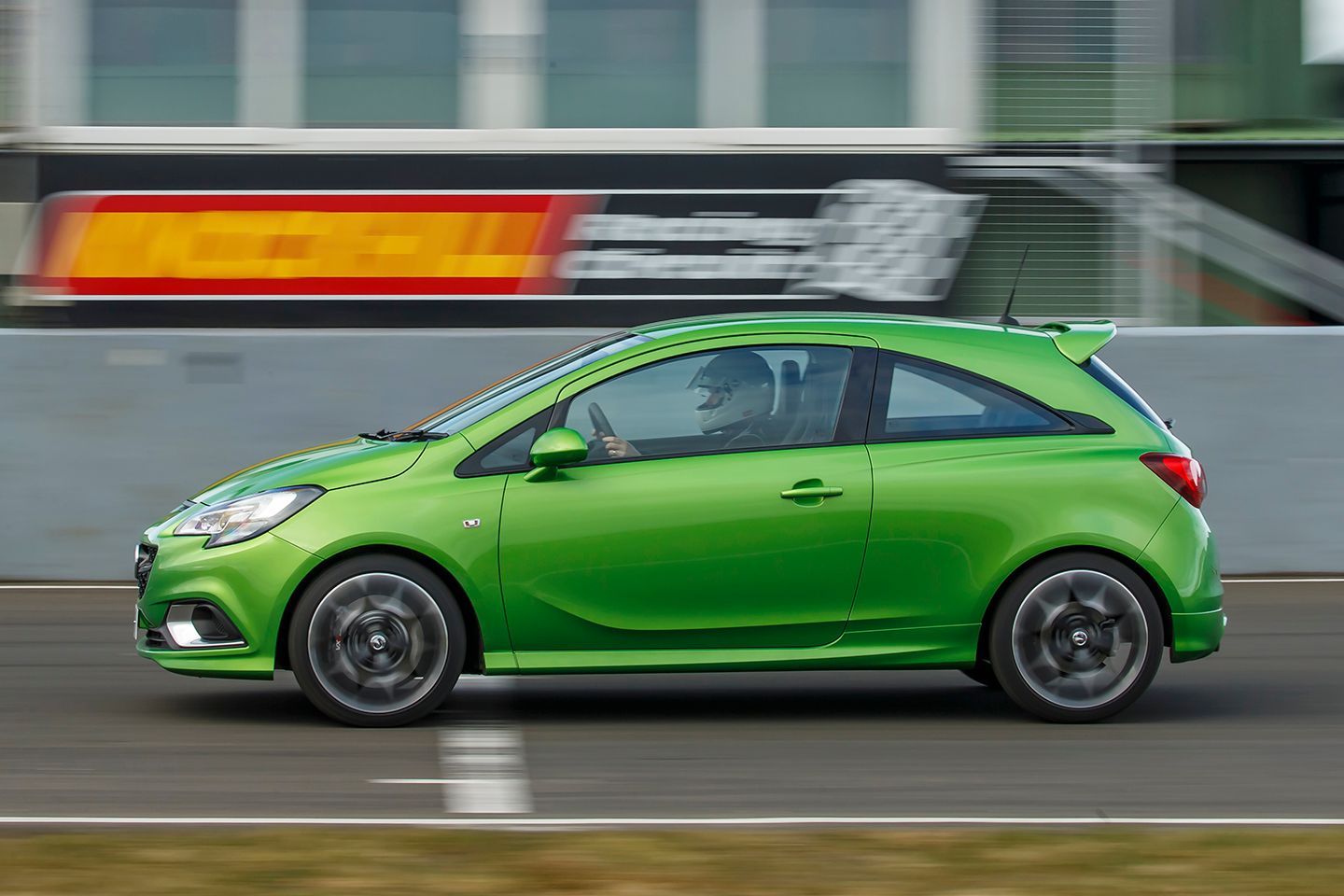 Mapped D Corsa VXRs did achieve a nasty reputation for engine failure, specifically due to the failure of piston number four. The popular view for quite a while was that this was down to cooling and/or piston casting issues. More than one independent specialist will now tell you however that it was more to do with the side-fed inlet manifold design which at wide-open throttle settings was causing the fourth injector to lean out.
This might not have been a problem for any other car running this engine but the nature of a VXR is that it will routinely get thrashed more, not only when they're in motion but also when they're parked up at car meets with the bonnet propped open. An aftermarket industry in redesigned inlet manifolds sprang up to help owners with this issue.
We should say at this juncture that, as far as we know, there were no reported engine failures on standard-spec Corsa D VXRs in the UK. This guide is about the Corsa E VXR. As far as we know the problem hasn't persisted in the newer car. The owner's manual does recommend high-octane fuel, though. On a separate but related point, good general advice when running any Corsa VXR is to warm the engine properly before caning it and then keep it running for half a minute or so when you've finished your journey just to make sure the oil is getting to the right parts.
On similar lines, we should also say that the serious transmission bearing problems suffered by early D Corsa VXRs – again on mapped cars in almost every case – should not be an issue on the E. The M32 box was modified on later D models, reputedly with a switch to Timken bearings from cheaper generic ones, and given an increase in its fluid capacity. Vauxhall stopped recommending annual trans fluid changes after this revision, but some serial VXR owners still do it on their M32s just to be on the safe side.
As regards general maintenance, there are three types of service listed in the fixed price servicing deal available at your friendly Vauxhall dealer: interim (£215), main (£265), and major (£435). Oddly, if you ask for 'Vauxhall approved' parts rather than genuine Vauxhall parts, that reduces the prices to £205, £235 and £385 respectively. We can't remember coming across a scheme like this elsewhere. Faced with such a choice we're not sure why you'd want to pay extra for genuine parts. Still, there's nowt so queer as folk. Consumables are priced at a pleasingly low level, reflecting those of regular slow Corsas. Filters and the like will often be less than a tenner a go. The vehicle tax on cars registered before 1 April 2017 is £250. For cars registered after that date it's £155.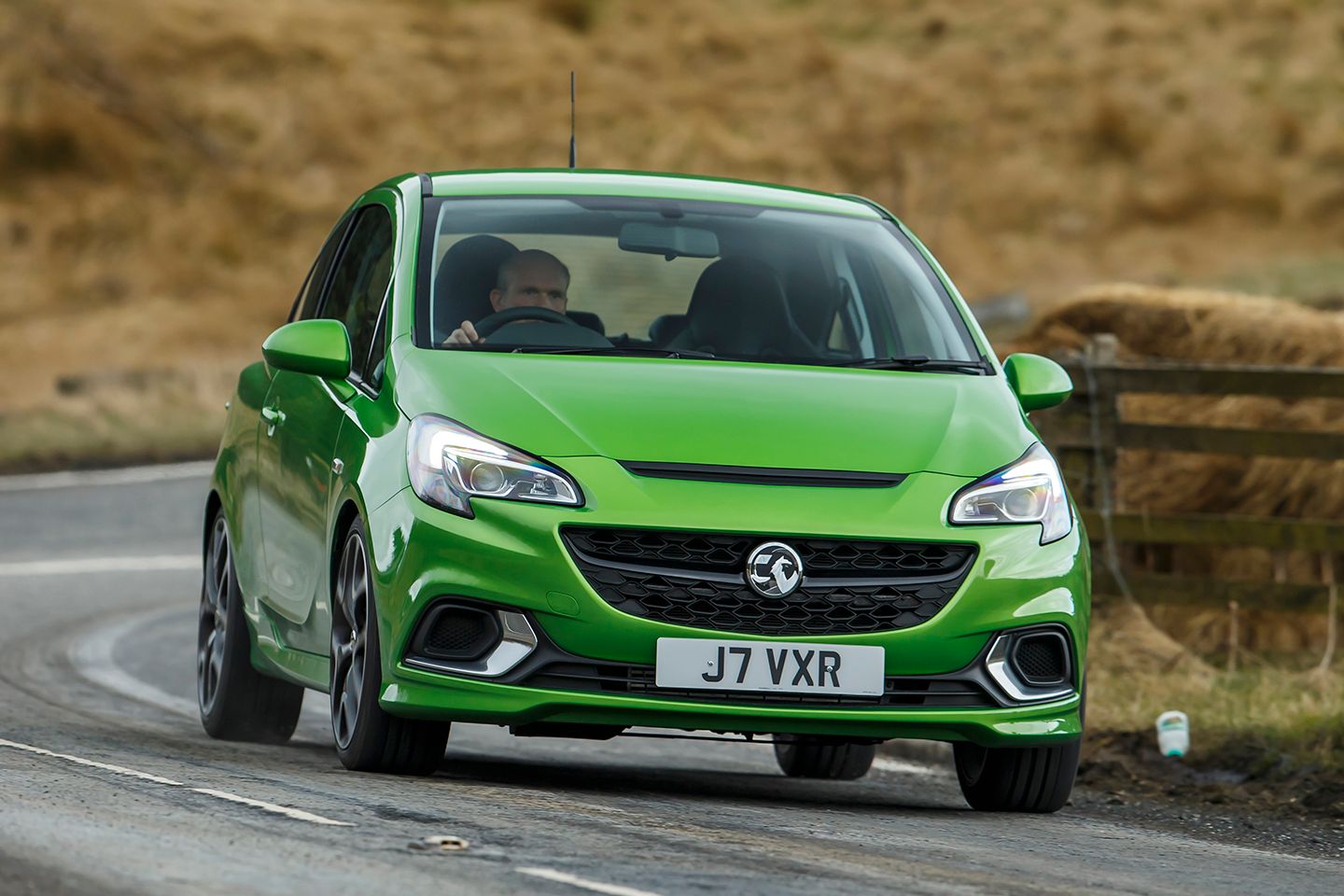 CHASSIS
Thanks to new front mounts and subframes, stiffer bushes, shorter springs, uprated 'frequency selective' Koni dampers in place of the old Bilsteins and a new rear torsion beam, the gen-two Corsa E VXR piled into corners with zest and conviction. The steering response was really quick and overall the gen-two did its VXR thing in a less nervy, unsettled fashion than the gen-one, although to be brutally honest that wasn't saying much. There was a limit to how much comfort you could extract from short, high-poundage springs, and it was a fairly low one. You could never describe the ride quality as 'plush' or anything close to it. With the Performance Pack in place it was just downright knobbly on British roads.
The Drexler LSD in Performance Pack-equipped cars wasn't exactly sophisticated in the way it went about its business, but you couldn't deny its effectiveness on the track. When driving a PP-equipped VXR on public roads though it really helped to be on top of your game as the wheel could squirm and writhe from the twin effects of the LSD and torque steer. For many of course this was all part of the VXR's appeal, but for those who weren't planning too many track days £500 spent
on a set of 18-inch alloys for the standard car was enough to add an entertaining enough edge to its road behaviour.
Front subframes used to rust on the gen-one cars. These cars can be quite hard on their suspension components. Drop links and dampers go and front coils can fracture, but as mentioned earlier the prices for these won't kill you. Drop links should work out at under £40 a pair, front springs under £120 a pair. A couple of Spax dampers should be around £150.
There was a recall in May 2020 for faulty steering columns on Corsas made between September and December 2019. There was a releasing handbrake issue but we're fairly sure that was only on earlier Corsa Ds.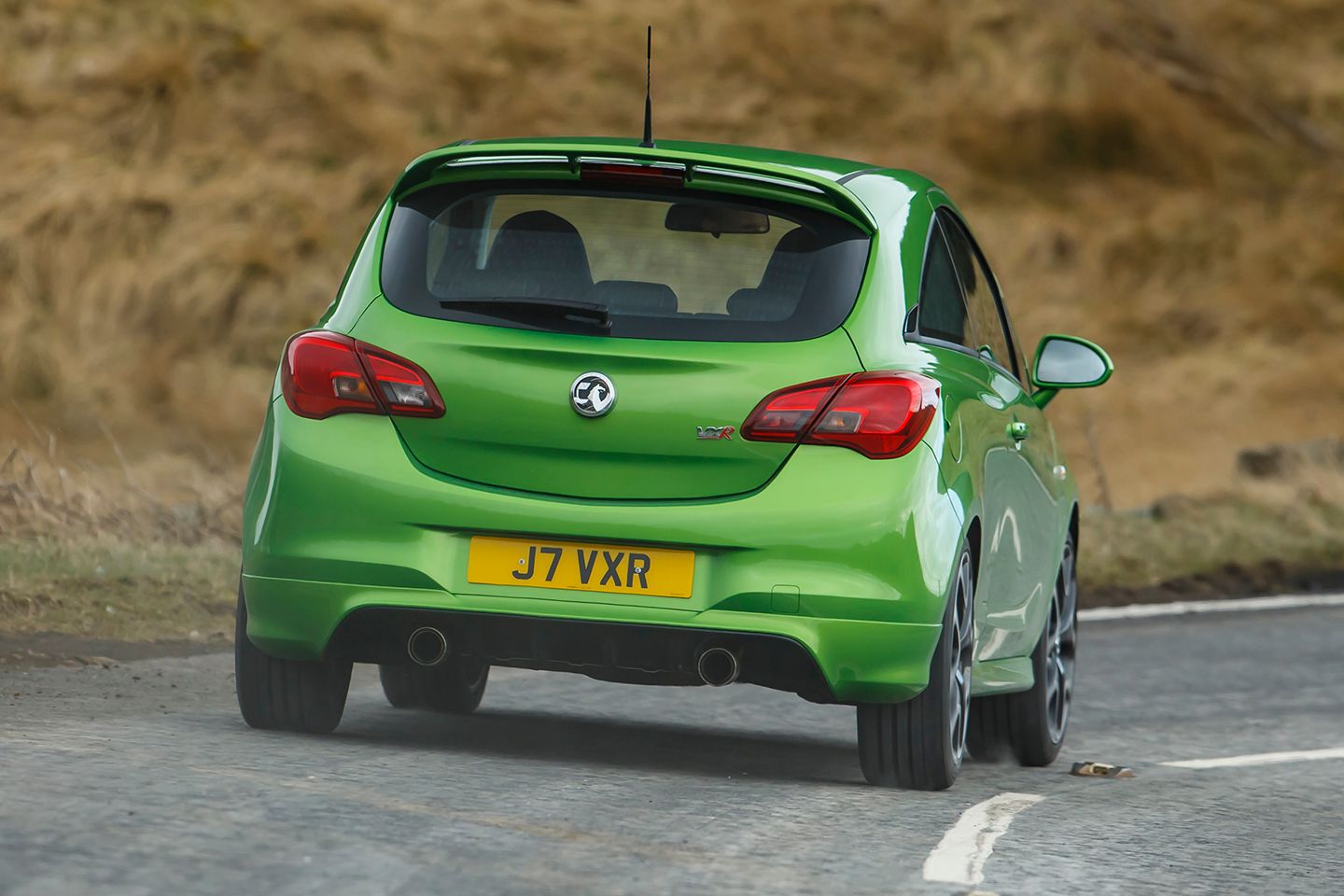 BODYWORK
Not everyone was a massive fan of the Corsa VXR styling, which had a kind of top-heaviness about it. The body kit and roof spoiler looked the part and the Limelight Green paint option in particular gave you good standout but the fake bonnet scoop was a naff touch that whiffed strongly of budget restrictions.
The VXR's three-door only format created a big C-pillar which cut down on sideroad exit visibility and headroom for rear passengers who might have already been feeling a bit hemmed in by the highbacked Recaro seats. Still, who cared about them, you didn't buy a VXR to take your mates out on joyrides. Er.  
Bi-xenon headlights were standard. The Carbon pack was reasonable value at £150 and looked good in ad copy when you were selling your VXR on, even if in reality it was little more than cosmetics for the grille bar and door mirrors.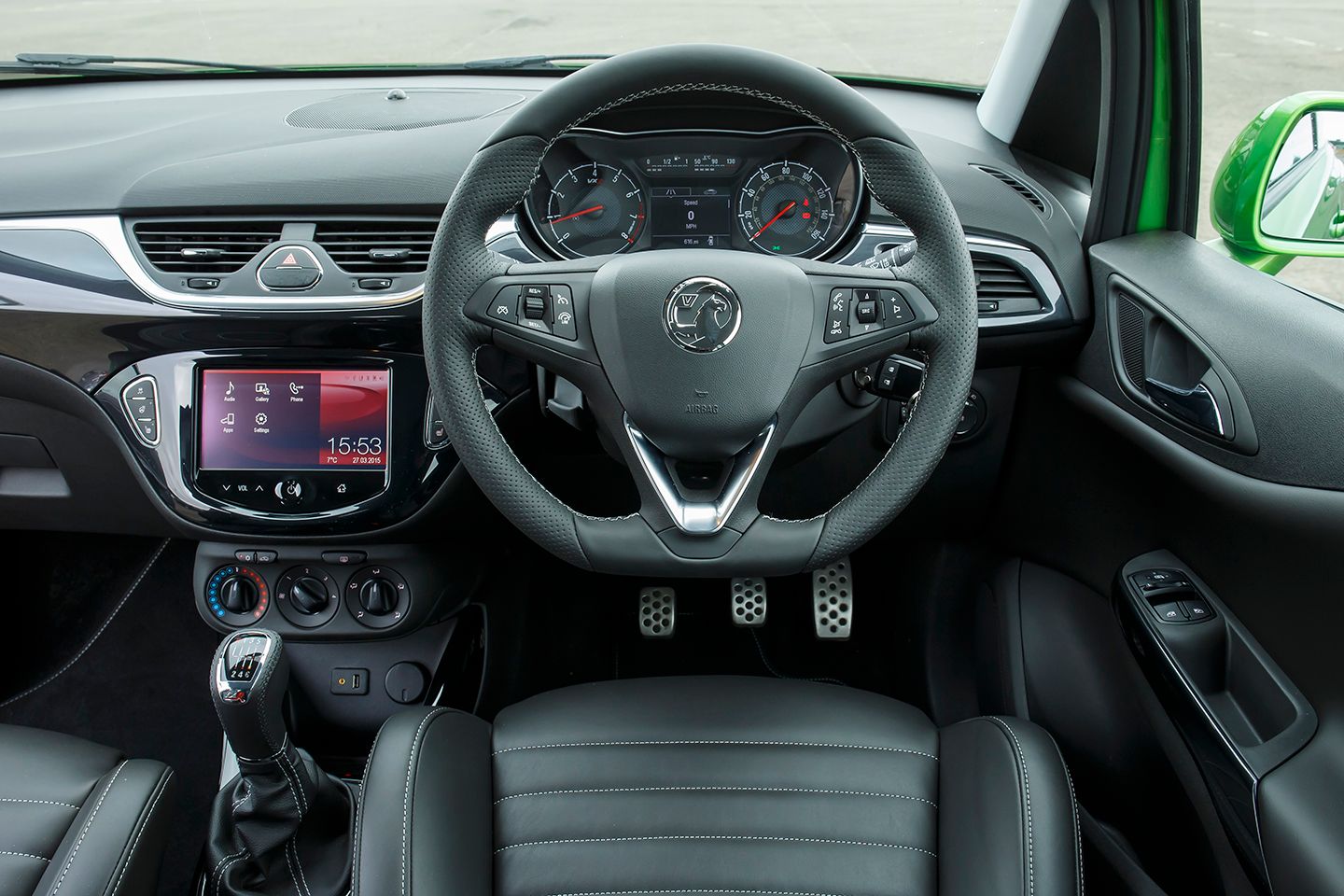 INTERIOR
By this stage of their evolution Corsa cabins were nicely made. Standard VXR equipment included excellent half-leather heated Recaro seats (full leather was available), a heated windscreen, air-con (manual), and a touchscreen infotainment system with digital radio, Bluetooth and Intellilink which allowed you to run apps like TuneIn. You also got a leather covered flat-bottomed sports steering wheel and gearknob, plus racier instrumentation.
All of which was great. Unfortunately, dull but important stuff like cabin storage wasn't so great. Baby owners attempting to get child seats in and out of the back might soon be wishing they'd taken up mixed martial arts instead of parenthood.
Boot space was 280 litres but grew to a useful 1,090 litres with the back seats down. An optional false floor smoothed out the step between the floor and folded down rear seats and did away with the drop from the boot lid aperture, but of course it also nicked some of your cargo space.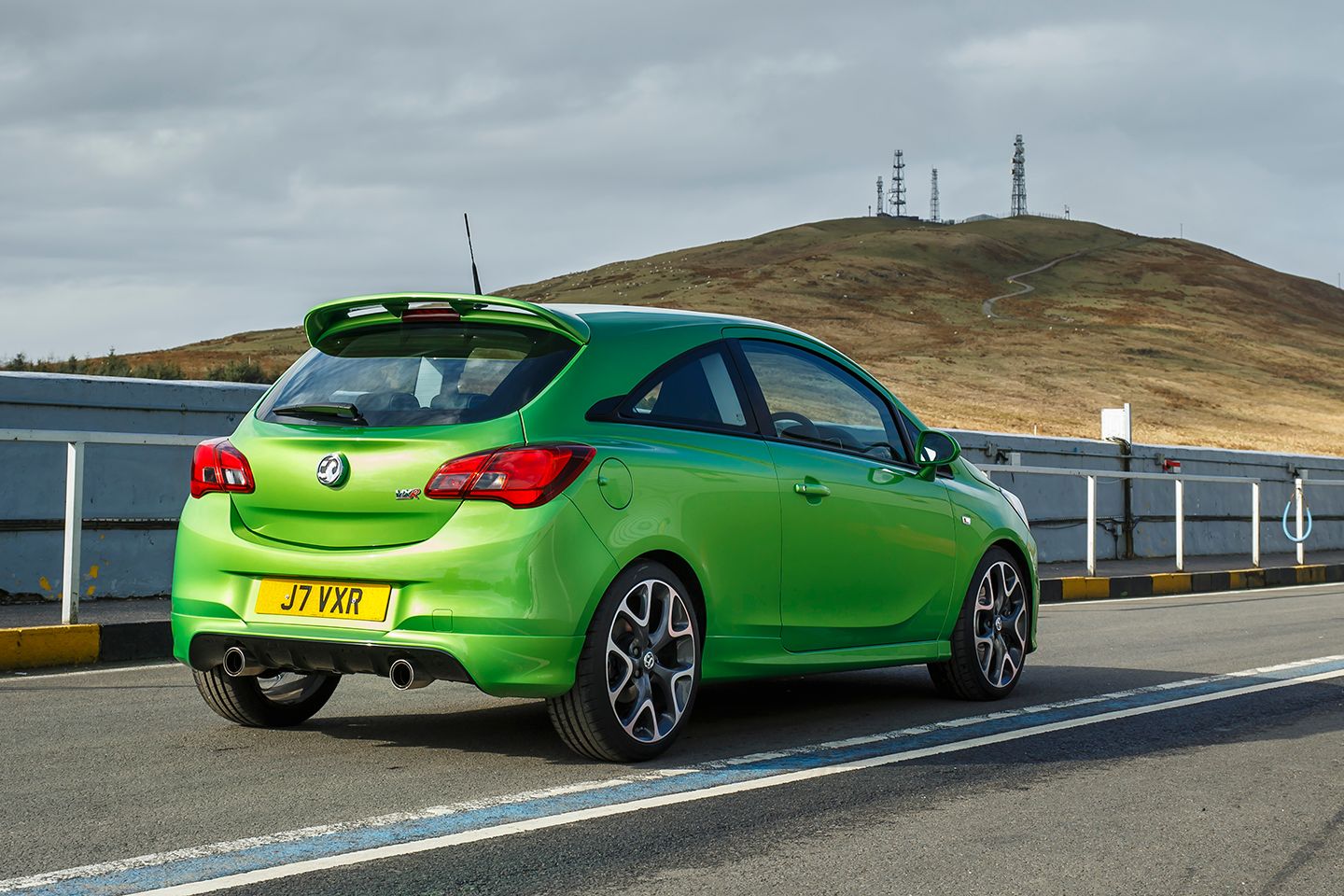 PH VERDICT
Vauxhall worked out that the typical demographic for a Corsa VXR was a 19–27-year-old male. Whether that sort of person would actually choose a Vauxhall over a Fiesta ST was another matter. They were both good cars. The Fiesta felt more resolved and compliant on the road, but in this sector the buying decision was as likely to boil down to factors like marque preference as anything else. Some would never buy anything with a Ford badge. Others wouldn't be seen dead in a Vauxhall.
Cost was obviously another biggie for young drivers looking for an exciting but affordable new car, but when you're fishing in the secondhand market for cars like this other factors come into play. On the plus side, getting on for two thirds of the new price has eroded away from the earlier gen-two cars. On the minus side, what sort of treatment might have been dished out to a 200hp supermini by previous owners? The answer to that question might not matter too much as long as the core proposition is strong and there's evidence of good reliability. As noted in the Engine and Gearbox section, even though the well documented drivetrain problems of the Corsa D VXR haven't been prevalent in the Corsa E VXR (and were usually confined to tuned Ds anyway), a policy of once bitten twice shy might serve you well if you're being tempted by a mapped car.  
Of the 39 cars on offer on PH Classifieds at the time of writing, more than half were priced below £10,000. The most expensive was this 2017 18,000 miler at £12,518. As promised earlier, here's a link to the cheapest VXR on PH. It's done 95,000 miles and the engine has been rebuilt but it comes with a three-month warranty, an option to extend that by two years and a price tag of just £6,995.
For a couple of thousand more you could go green with this 74,000-mile 2016 car. It's anything but green under the substantially bodykitted skin, packed with a veritable skipful of top name engine (and chassis) tuning parts. To finish, if you're into the old school alternative that nine grand would also buy you a late (2015) mid-mileage (50k) Clubsport version of the old gen-one VXR.